Who is your favorite swimmer?

Australia
April 8, 2007 10:31pm CST
Who is your favorite top swimmer? Mine at the moment is American swimmer Michael Phelps. I think he is simply amazing! Not long ago he won 7 gold medals in the World Championship Swimming in Melbourne. He probably would have won 8 gold medals if the American relay team didn't get disqualified in the series. Another good swimmer is Janet Evans, I was a major fan of her when I was a young kid. Her world records still stand (they date back from 1989). Anyway, back to my question, who is your favorite swimmer?
1 response

• Philippines
22 Apr 07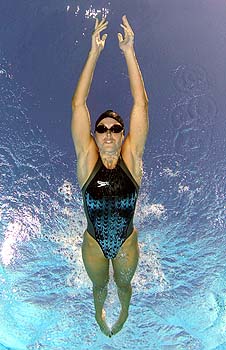 I like Michael Phelps too, he's very talented and determined to break Mark Spitz record of 7 gold medals in one swimming event but he's not as gorgeous looking as Ian Thorpe haha! Amanda Beard tops my list for women swimmers, while she's a powerful swimmer she's also very smart and got into modelling too.