The curious mind of a child...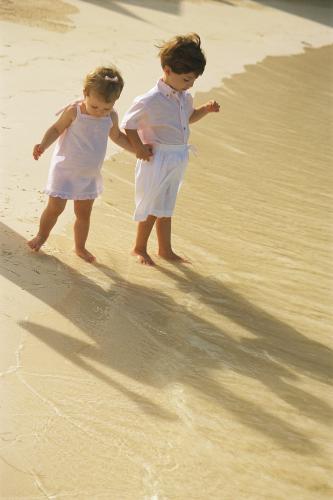 Northern Mariana Islands
April 10, 2007 11:43am CST
I took a break from answering discussions here on myLot, and thought of washing the dishes first. The kid in me arose again as I began to play with the soap and made bubbles with it. And then suddenly I remember how foolish I was as a child to think that people can be contained inside the bubbles and lifted up in the air as what I have seen on tv shows and movies. Then I realized that I had a lot of silly, innocent questions and thoughts when I was a kid. Like why the moon was following us? How did the sun know that it's time for her to shine and for the moon to rest? Did the people inside the TV also see us? Why do ants walk on a single line? Why do we have shadows? Are they what others call our "conscience"? Just some random thoughts inside a child's curious mind which were later on answered as I grew up. How about you, did you ever wonder about anything and everything around you when you were still a kid? I'd appreciate if you answer too coz I'd think I was the only one silly enough to wonder about these things. Lol:p
4 responses

• India
23 Apr 07

hey you are so excited to know that i am of 20 year and when my 2 year bro ask me that why you are so long then i laugh too much and also ask me why i am too short ? why not i am a girl ?why i am a boy ? he ask me all the silly question as he always make me laugh and asking question he answer me and his answer are so silly then i tell him that you are right then hi is so happy and go to play as one time i am doing my work then i he came to me ask me to play with air then i ask him how to play with air then he tell me that you are in that side just only shake your hand and push the air in my side ........ then i like the game and play that as i am not consider that it is so silly game and i play it he is so happy to play this................ how silly the small one but they are so cute ........ i love the small one and small babies........

• Northern Mariana Islands
23 Apr 07
Your brother's cute! :p Kids are really smart. They may be little but their minds are often full of questions and curiosity. Thanks for sharing this, rajesh! :p

• India
23 Apr 07
i doest got such an expreince because i take the thning as serious.According to the psycatrist when we grow old our childish nature will come back. i think this is the case for you. right? ya shame if you behave like a child in this age. so avoid ur childish character be a good girl

• Northern Mariana Islands
23 Apr 07
Why, I am a good girl! I think there's nothing wrong with acting like a kid sometimes. I believe there will always be that "little kid" inside of us and anyone who entertains that idea means he/she is in touch with him/herself. Besides, life is too short to be serious all the time, kavinpurams. But thanks anyways for your thoughts!

•
13 Apr 07
I used to wonder stuff like that too, I have pictures I drew as a teenager of different worlds in bubbles and raindrops. was at the other side of the door - was it the same if I opened it or someone else? how do colours look to other people, if you were always told red was blue what colour was it really? why does the sun shine in the day when the light would be useful at night? did the little people in the Tv like living in our lounge - I knew they could see us? Why do bacon, onions and mushrooms smell so good when they're cooking - far better than they taste? I had loads, some still unknown, lol.

• Northern Mariana Islands
23 Apr 07
Good questions, rainbow! Lol! :p I do still have some questions unanswered till now. Anyways, thanks for sharing your thoughts! :p

• India
11 Apr 07
No you arent not silly!!! infact no one does that this days... we ignor how beautifully god has created us and things around us! every little thing you see is unique!!! but this days people have no time to admire beauty and thank god for it!!! i should say you have a beautiful mind and soul too... may god bless you!

• Northern Mariana Islands
13 Apr 07
That's so sweet of you mariyamaka! Thanks for the comment and for being my new friend too! May God bless you also and take care! :p