What guides would you be interested in?

Romania
April 10, 2007 11:31pm CST
I'm trying to start a blog on Neopets because after a few years spend there I'm quite experienced LOL. I only wrote two guides so far, "All about codestones" and "All about the brain tree" (if you're interested i'll give you the link but keep in mind it's a work in progress :) ). Given my vast knowledge of the topic ( :P ) I'm having a bit of trouble figuring what to add first. That's where you come in :) So, is there anything in the Neopian world you'd like to see a blog article about?
5 responses

• New Zealand
11 Apr 07
Hey. I have a Neopets fan site and we are currently looking for guide writers. So if you're interested in joining please send a message through mylot. The site is neocrazy.net and our guides are really crappy xD

• Romania
11 Apr 07
I read through some of your guides (the ones that do exist :) ) ant they are not crappy at all. I have only one correction to make: you say somewhere that if you want a trophy you should have a second account to use if you have exceeded your 3 games of the day on your main one. That could get a user frozen you know. :( The terms and conditions clearly state that you can only gain neopoints on one account and one only. Which means you cannot send any scores on your side accounts. I really think you should correct that. Besides that I kinda like your site and your offer is quite tempting. But truth is I'd rather try on my own right now (I read a lot on theory on promoting blogs and audiences and so on and I'd really like to put it in practice, that's why I chose a blog in the first place :) ). I'm sure you'll understand that. However maybe later if my blog will totally flop and if your offer will still stand... :P

• Canada
11 Apr 07
Actually you can technically have more than one account after all if you are a premium member they let you have 5!

• Canada
11 Apr 07
btw love both sites! book marked them both right away


• Canada
11 Apr 07
You should do one on the stock market! and the battledome... I would love the link

• Canada
12 Apr 07
escpecially the best way to beat the cave chia LOL fought him 4 times and got my keister kicked all 4 times


• United States
11 Apr 07
I would be interested in a guide on gourmet foods, books, and also the map thingy that you have to put together. And what is a negg?


• Philippines
3 May 07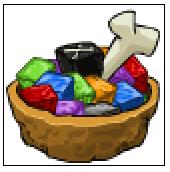 Hi. I'd like to have one of those guides especially the "All about codestones" can I have the link, please :) Maybe you could write a guide about the stock market and the plushie tycoon game, many neopians want to earn neopoints via these two but are afraid to lose money.

• United States
11 Apr 07
I've written a ton of guides for the site, from my experience I found it easiest to take one specific thing and write on it. Like quests, restocking, battledome etc. I am a NeoAddict lol .. let me know if you get one up and running. It would be nice to have a blog here where other neofanatics can post info about avatars etc.