Have you seen this before? .... It's the Blue Screen of Death! Let me help you!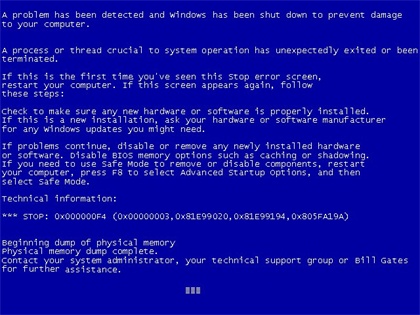 Philippines
April 11, 2007 3:39am CST
This here is one of the most common problems that you encounter when you work with computers. Problems range from hardware/software incompatibility to corrupted Operating systems. THe scree tells you alot about the problem but even people with advanced computer knowledge can understand all the things in the screen. Most common ones are Stop: 0xED (unmountable_boot_volume) This would mean a bad OS or HDD. Anoher one is the Stop: 0xEA which would usally result to a bad videocard. There are hundreds more out there and we can't decipher them all. I've encountered most so if you need help, let me know so I can share my resolutions with you.
1 response

• Malaysia
23 Apr 07
I used wireless thumb drive to get connection to the internet (wireless). The problem is when i unplug the thumb drive, that blue screen appear, even i properly unplug the thumb drive. What do you think the problem is?