Dealing with troublemakers: Tit for Tat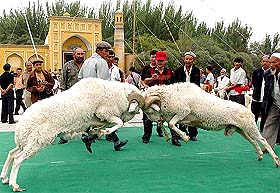 Canada
April 11, 2007 9:15am CST
Tit for Tat is a very efficient strategy that is well known in artificial intelligence and game theory. This strategy applies to situations where we have 2 agents who sometimes collaborate and some other times do not. The goal is to make both agents reach a situation where their benefits are maximum. This might sound technical, I know, but I will try to explain how I am using this strategy to deal with people, especially my neighbors. The Tit for Tat strategy says, do exactly what the other agent did in the past move. If he collaborated, then collaborate. If he did not collaborate, then do not collaborate now. The strategy is very simple, yet very efficient. For instance, assume that you have a not-so-nice neighbor. The first day, you start collaborating with your neighbor, that is, making sure that your tv is not very loud etc. If, at the same day, your neighbor is playing his music so loud then in the next day you play your music loud too. If on the third day the neighbor understands and brings down the volume, then you do so on the fourth day and so on. This strategy is the best in game theory because you show your neighbor that:-You are nice, since you started by collaborating on day 1, but it was him who started the noise. -You are firm, whenever he makes noise, you are going to make noise too. -You are a forgiving person, whenever your neighbor goes back to acting nicely, you act nicely too. -Finally, the strategy is so simple that your neighbor will ultimately understand that you are acting exactly the same way as him and will try to bother you much less as he like anybody else wants peace too. You can learn more about this strategy as well as about the iterated prisoner' s dilemma by doing a search in Wikipedia.
1 response

• United States
11 Apr 07
That is an interesting theory. I have never engaged in it. What do you do when the neighbor just keeps tatting and you have to keep titting? Would this be an escalation and a prelude to all out war? What do you do if the neighbor keeps doing the same things and refuses to engage in the game? You can't force the neighbor to collaborate with your collaborations, can you? If dealing with people were that easy, I think there would be more peace in the world. I hope it works for you.

• Canada
13 Apr 07
Sigma77, Applying this strategy prevents me from titting forever while the neighbor is tatting forever, I will just start tatting on the next move (day). It is possible though that both partners will insist on not collaborating in that case there will be an escalation as you mentioned. Of course, this strategy assumes that the partners are more or less reasonable and will not persist on not collaborating forever and thus harming themselves. As you said, the strategy is simple and does not take into account the strange human psychology. Though, it was the winning strategy when applied to the iterated prisonner's dilemma, but again in this tournament, computers were competing against each other and not human beings.