What funny things does your baby do..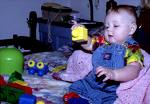 Singapore
April 13, 2007 12:16am CST
My baby is 16 months old, now he is in his monkey stage where he repeats everything I do, if I ask him to pick up the doll by pointing my finger to the doll, he will also point a finger to it, I will tell him more firmly go and get the ball, and he will also do the same firmly, if I drop my towel on sofa after drying my hair, he will pick up the towel and dry his own hair, seeing all this is so cute, does your baby do anything thats funny and cute too?
2 responses


• Canada
13 Apr 07
Wait til he learns to play 'catch' That is a game where he yells 'catch' at you and then literally heaves something at you, anything at all. Today, my granddaughter who is just a few weeks older than your son threw my coffee cup, a steak knife, and her full dinner bowl at me. She also threw a full glass of juice at her brother who was asleep on the couch. And amazingly, she has really good aim. Then there is the jump on the bed game where the child decides to jump OFF the bed instead and nearly gives grandmother a heart attack.