Zucchini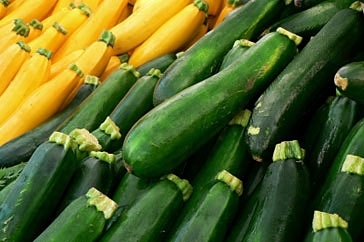 Australia
April 13, 2007 1:25pm CST
The zucchini, also known as a courgette, has origins which can be traced back more than 9,000 years to Mexico. Zucchini is a type of summer squash. They're available in green and yellow varieties. Both have soft, succulent flesh. Is it good for me? Zucchini is an excellent source of vitamin C, and provides some beta carotene and folate. Buying and storing Select firm zucchini with glossy skin. Store in an sealed plastic bag in the crisper for up to three days. Preparation Wash and pat dry with a towel. Remove both ends and prepare as desired. Cooking tips Halve zucchini, top with butter and garlic and grill until tender. Use a vegetable peeler to peel zucchini lengthways into ribbons. Pan-fry with butter or oil and serve with grilled meats.
7 responses

• India
14 Apr 07
I have got a great recipe to share with you and I think you will love it. Zucchini Chili 4-6 cup of grated, unpeeled zucchini 1 cup of celery, sliced 1 medium onion, chopped 3 tablespoons of vegetable oil 1 (15 oz.) can tomato sauce 1 tomato sauce can of water One 29 ounce can of whole tomatoes & juice 2-3 tablespoons of chili powder 1 teaspoon of garlic salt + 3 teaspoon of salt 2 tablespoons of sugar 1 teaspoon of black pepper 1/2 teaspoon of red pepper 1/2 cup of pitted ripe olives, sliced One 15 ounce can of kidney beans 1 cup of fresh, sliced mushrooms Sauté grated zucchini, celery and onion in hot oil in large kettle or saucepan until celery is tender, but not browned, about 6 minutes. Add tomato sauce, water, tomatoes and juice, chili powder, garlic salt and salt, sugar and pepper. Simmer slowly, uncovered, 1 to 1 1/2 hours. Add olives, kidney beans and mushrooms. Simmer another 10 to 15 minutes. Serves 8.

• United States
14 Apr 07
Oh that sounds great. I'm going to try it. Thanks samrat.



• Australia
14 Apr 07
Zucchini Casserole Recipe 3-4 cups cubed zucchini (yellow or green) 2 small cans of mushrooms-drained 1/4 cup onion (chopped) 1 cup tomato (chopped) 1 pound sausage 1/2 cup uncooked rice 1/2 pound Velveeta cheese pinch of oregano salt and pepper to taste While the rice is cooking, brown sausage, then add onions, brown lightly. Add tomatoes and zucchini. (cook for about 5 minutes). When rice is done add it to the meat mixture. Add mushrooms, cheese and seasonings. Mix until the cheese has melted. Put into baking dish. Bake at 325°F for 1 hour.

• United States
14 Apr 07
Thanks for all the information kathy. I also enjoy them in eggs. Yummy. ++ again girl, keep these great posts coming.

• United States
14 Apr 07
I will shred zucchini and use it for a slaw type salad, it is easier to digest than cabbage. You can also just add it to your slaw. Another use for shredded zucchini is to steam it and use it instead of pasta. You can serve your favorite spaghetti sauce, and meatballs over it. I also used to cook tomatoes, peppers onions zuchinnis and stew meat together. Even my hubby who did not like zucchini liked this. I also like it raw in salads or on a vegetable dip plate.