How often does your extended family get together?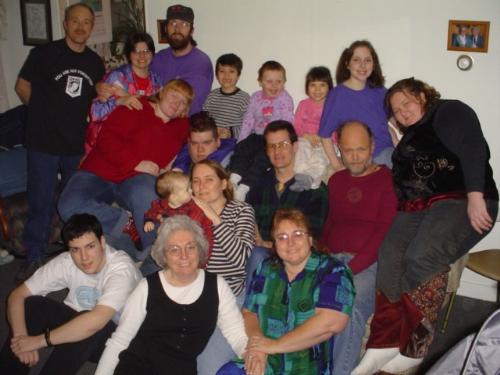 United States
April 13, 2007 8:37pm CST
How often do you take a group picture? Years ago we started taking family group pictures at my moms house for a Christmas gathering. We have atleast 1 gathering that we all make it to each year and we take a group photo then. Sometimes maybe 1 or 2 are missing but we take the photo anyway. This is from 2003. How about you and your family?
4 responses

• New Zealand
15 Apr 07
We get together every first and last sundays of each month, extended family and a few friends... We each ake turns to host the sundays for BBQ or Potluck, Unless the whole family decides to go down the beach... It'll be to get together more often, then the usuall...

•
14 Apr 07
What a lovely happy looking family , we do the same , usually at Christmas , My Mums birthday is on Christmas day and we usually have a cake for her and sing happy birthday to her too , I used to have everyone at our house but since my health hasn't been as good my eldest son and DIL have had the celebrations at their house , we all take pics and now have the camcorders too , we get up to all sorts with the kids games and I love to sit and watch them if I am feeling a bit down , it is brilliant too to look at the fashions we wore as the years go by , always a good laugh , xx

• United States
14 Apr 07
HA! The last time we got a family shot of my mom's family was 1985 & my bro wasn't there. Neither was the cousin that supported one of the other cousin's ex instead of the family. We try to take a family shot (mom, bro, sis, neice & me) at Christmas, but I don't think we managed it this year but we had a group shot at mom's birthday in August.

• United States
14 Apr 07
I dont get to see my side of the family to often may once a year, they live soo far away. On my hubbys side we all used to get together at least twice a month, brothers ,sisters, kids, mother in law. In 2001 my mother in law passed away and slowly but surly we met less and less. It's kinda sad that we let that happen but kids are older now and dont want to go visiting anymore and younger kids don't know the family very well. I guess my mother in law held us together. We all miss her very much.