Do you have a coffee maker? What brand do you have?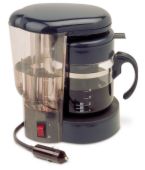 United States
3 responses

• Uruguay
15 Apr 07
I have a Kenwood electrical coffee maker. The problem is there is no more representation of this brand in Uruguay and the glass jar broke. I have to find a new jar that fit.

• United States
15 Apr 07
I never even heard of the Kenwood..Have you considered looking on ebay for this item? What size coffee pot is it..How many cups does it hold?:)+

• United States
16 Apr 07
Really..I am sorry to hear that..I will whisper a prayer you find something at a reasonable price close to you;)+

• Thiruvananthapuram, India
15 Apr 07
We do not have a coffee maker as the family beverage is tea with milk and sugar

• United States
15 Apr 07
So you never drank coffee? I can't imagine life without coffee..but that is the same for many people who drink tea;)+

• United States
14 Apr 07
It is funny you asked about the coffee maker. I had 2 (Mr. Coffee) 4 cup coffee makers. I use one and loaned the second one to my friend across the field. She is going to get her one soon and I'll have a spare Mr. Coffee maker.

• United States
14 Apr 07
Lucky you ...dear Ruby..Two coffee makers ..wonder how much you could get for that coffee maker on ebay???:)+ BTW you can send me that link we discussed on yahoo messenger;)+