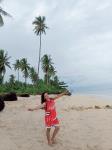 Jean
@Jeansapphire (84)
Davao, Philippines • Age 41
Joined myLot 2 months ago
Users Jean Is Following
RasmaSandra
@RasmaSandra (64941)
•

Daytona Beach, Florida
12 Sep 15

New York City is my hometown. I have now relocated from Riga, Latvia to Daytona Beach, Florida along with my cat Sid. I am passionate about poetry and writing.
679 following
Brigitte Gonzales
@bbghitte (3300)
•

Philippines
9 Mar 20

Notice the unnoticed. Know the unknown.
81 following
DE
@DaddyEvil (126294)
•

United States
3 Sep 15

My daughter gave me this name years ago. It seems to have stuck with me. I'm addicted to myLot! LOL!
110 following
GoAskAlice
@GoAskAlice (5827)
22 Dec 11

Official moderator and "go to" administrator for Mylot.. Email: go_ask_alice_mylot@yahoo.com
6 following