If you were shopping for a handbag

United States
April 29, 2007 11:37am CST
What kind would you be looking for? Also what is the difference between a pocketbook and a purse? I mean seriously is it just that some people call a handbag a purse, and some call it a pocketbook? Or is there a reason for this? Also if you were selling one of these would you just call it a purse or a pocket book. I am making these to sell and I can't figure out if I should say purse or pocket book. I feel dumb today.
1 response

• Singapore
30 Apr 07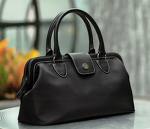 I think a handbag is the one which has this tiny handle and you can't make it go up your shoulders so you have to like just have to carry them by the handles and a purse is one which has no handles and you kinda have to carry it under your armpits or something. LOL. I honestly don't know anything about bags and this is the first time I've heard of a pocketbook but when I'm looking for a bag I usually look for those spacy bags because I carry a lot of things, also I prefer black leather because it wouldn't be too obvious that the bag is getting dirty.

• United States
30 Apr 07
Okay, I really don't know what the difference is and have used all three terms interchangably. (handbag, purse, pocketbook) I don't even like to carry one. But I decided I would make these to sell in a craftshow latter this year. I am crochetting them though. My grandmother used to make the leather ones, but leather cost a lot these days.

• Singapore
1 May 07
Oh, my sister use to crochet and I think she made a bag before. That's nice, I never had a crocheted bag before because I'm afraid that all my little thingy will fall out.