Dreamcatchers... Do You Own One?

Edinburgh, Scotland
May 1, 2007 9:10pm CST
If you do own one, I would like to ascertain whether it works for you, and how? Do you believe that it lives up to the Native American legend, which states that it allows good dreams to slip through the web and into the sleeper's unconscious, whilst bad dreams, are caught in the web and perish at morning light? Did you know that originally, dreamcatchers were made by parents to protect their children from nightmares, and that feathers are attached to the dreamcatcher to assist the flight of good dreams? New babies were given charms that were woven in the form of spider webs to protect their dreams so their innocence would not be harmed by the tricksters of the night. The dream catcher charm would be hung from the hoop on the cradle What are your experiences and beliefs concerning the dreamcatcher... do they prevent you from having nightmares? If you have one, did you purchase it or craft it yourself? In my experience, dreamcatchers are a very fascinating subject for quite a few people. It could work well for you
11 responses

• United States
2 May 07
Yes, I do have dreamcatchers. My 5 year old daughter was having nightmares so we purchased one from a full blooded native american. Of course everything but the feathers (because they aren't allowed to use the original feathers) are authentic to the dreamcathers. I do believe that they work and that they should be hung where the light can shine through them in the morning, that is what releases the bad dreams. I don't know the entire story of the dreamcather or from which tribe that they originated from, but I will say that I truley believe that they work, my daughter wakes up and says no more bad dreams.

• Edinburgh, Scotland
2 May 07
It's nice to know that it works for you and you have it in the right place for the dreams to be released. Having belief in the dreamcatcher is a great feeling when it repeatededly stops those horrible nightmares. Well done and than you for sharing that with us.

• United States
2 May 07
Yes I owned one and it backfired... my family is part indian and we moved to the midwest maybe 5 years ago.. and we went to the indian reservation in oklahoma... I had the most beautiful, biggest, dream catcher out there... I decided to put it up in my room... and I was taught how to catch dreams or discard ones that were bad... this dream catcher made me have the worst dreams ever... I thought spirits were around me and I felt like bugs were crawing all over me... I couldn't sleep at all intil I got rid of that dream catcher...so my advise be careful talk to some oen who truly knows what a dream catcher is all about

• Edinburgh, Scotland
3 May 07
Sorry to hear that your dreamcatcher backfired and I'm sure that there must be a logical explantion for that happening and certainly need a professional opinion on that. Thanks for letting us know that we have to be carefull on what could could happen with a dream that wasn't caught.

• United States
3 May 07
Yeah Iknow it was crazy it caught all my good dreams and let all my bad ones pass

• United States
2 May 07
We have several in our house actually. I've given my neice a couple and I have one plus there is one over the one door leading into the house. I think my sister has a couple as well. One I think they are beautiful to just look at. the other is I do think they do help with the nightmares or bad dreams. It might just be my belief in them that helps them to work but either way I have noticed a difference since I've had them. I don't craft my own. I buy them. I actually found some beautiful ones at the dollar store of all places. You never know where you might find things at.

• United States
4 May 07
Well I figure it can't hurt and it might help. They also look nice up on the walls so a double bonus.

•
2 May 07

I don't have a dreamcatcher as yet, but I am looking to make my own, so that it's more personal to me. I have a friend who makes them to order for friends and neighbours who wish their children to be protected from bad dreams. They all came back with good reports, apparently. I believe in dreamcatchers, but I guess I have to experience their worth first hand. One of my friends found hers spooked her out, so I'm not going to state categorically that they work. I'll have to let you know when it's operational. lol. Thank you for this interesting discussion Deeeky. I'm going to rate you a +. Brightest Blessings my dear friend.

• Edinburgh, Scotland
2 May 07
Not happy about the one where your friend has been spooked out by the dreamcatcher and hope we can gather further insight as to why, and to where the dreamcatcher is placed so that the captured dreams can be released safely. Hope you can find one that suits your tastes and works well for you. Pleasant dreams my friend.

•
2 May 07
I think she told me that it was hanging inside the bedroom door which is entirely the wrong place for it. Our bedrooms face west, so the light isn't brilliant in the morning, but hanging it in the window would be far better. Mine will be perfect for me because I know how to empower it, and I'll use only natural parts. My knowledge of tree lore will help immensely, and the pattern will suit me personally. (See pic). Taking all this into consideration, I believe it will work, and work well, but we shall see.

• Canada
3 May 07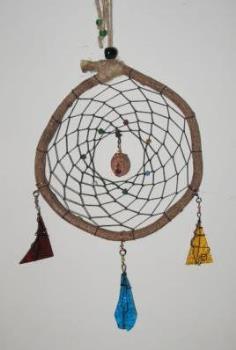 I not only own one, I make them. Here on the west coast of Canada they are popular and fun to make and sell.

• United States
2 May 07
I make my own dreamcatchers so I have quite a few of them. I have one hanging in each bedroom of my house. My children have never complained about having bad dreams. I have always believed in the legend of the dreamcatcher.

• United States
3 May 07
I have a dreamcatcher in my bedroom that was made for me. I think that it does help me to sleep easier, with less bad dreams. Unfortunately, one of the strands of the "web" is broken on mine right now. I need to make a new one to make sure it keeps working!

• Philippines
3 May 07
I do own one.. but it is one worn as a necklace. I loved the color. Anyway, Im not sure if it works but I havent tried it .. Yes.. it might work though.. but I really like the subject of dreamcatchers... :P

• Davao, Philippines
2 May 07
Nope i dont have one, its my first time that i know that kind of charms here, i have seen that movie though..i mean the title, dream catcher...i dont know if im going to believe it or not.. just confused on what to believe i guess..

• Canada
2 May 07
Yes I have a dreamcatcher and have also given them away as presents. I love the story behind them. As far as dreams are concerned I really don't know if it makes a difference but I like to look at the dream catcher. I bought mine in a craft store. I think dreamcatchers are beautiful.