Does your baby grind his teeth?

Canada
4 responses

• Canada
7 May 07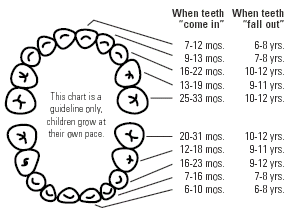 Hi there Juliansmom....I had the same issue for my daughter, I had taken her to the dentist when they asked me the question does she grind her teeth. They told me that she did it so much that the ridges on the back were gone. They suggested for me to buy her a mouth guard for night time so if she went to grind she would not affect her teeth, For you I would just call your dentist and just let them know and see what they can recommend for you to try to get him to stop. I wouldn't worry to to much only because these are baby teeth but I'm sure you don't want him in the habit of doing it either. I wish you all the best and Please keep me updated Take care Stacy

• Canada
7 May 07
I should give a dentist a call. He hasn't been to one yet. I'm not sure when is the best time to go! It's not like he's going to sit in a chair right now!

• United States
7 May 07
My daughter does that all time she is about to be one. he has four on top and two on bottom. And when I look atteh two middle ones at the top they arre kind of chipped in between . I thinkit i from her grinding. I mean as long as you keep them clean and try to take care of them I am sure it will be fine. I think the time to worry about it would be when they get their permanent teeth.

• Canada
7 May 07
I would definitely be more worried if it was his permanent teeth! But he does have to use these ones for a while, and eat with them which is why I was wondering if it was normal. If it's normal and most babies do it then it's probably not a concern. I was thinking he may do it because he's cutting his fourth tooth. The only other time I noticed it is when the third one ws coming in.

• United States
7 May 07
No i understand . I think she has stopped grinding, but at her nxt doctor visit I am going to ask teh doctor if there is anything to do to stop it.

• United Kingdom
7 May 07
Nothing to be worried about. Both of my kids grind their teeth. My toddler still has a few more to come through and my other child is 7 and losing his baby teeth. I'm often hearing strange noises in the night from both of them. Just be careful and try and get them to bite or chew on something if they do it during the day because it can be bad for teeth if they do it too much.

• Australia
8 May 07
My daughter has just gone 11 months & she has both top & both bottom ones & she was grinding there for a little while, she seemed to make a habit of it while she was chewing her food but she seems to have stopped it for the moment. I think it's just that they have something new & can do something with! She also mainly did it when the 4th one was coming in (her top right-LOL) so maybe it was a relief for her but now, i haven't heard her do it since the latest one has dropped down. He will get over it, just put something in his mouth if you hear it, my daughter has her pacifier/dummy which helps a LOT with her grinding!