Are you messy or organized at work?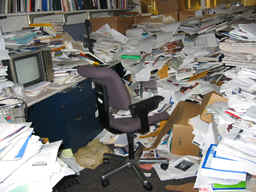 United States
May 10, 2007 11:36am CST
I think I am a pretty organized person most of the time, but as I'm looking over my desk today and trying to rearrange things at work, I'm seeing just how much junk and unneccessary paperwork (I already have a stack ready for the shredder) I have!!! What are your tips for keeping your workspace organized and tidy? Are you a messy person at work, or are you good at keeping it clean and neat?
3 responses

• Philippines
10 May 07
At work, Iam a very organized person coz its crucial for me to misplace files espcially when I need then right away. To keep your workplace organized...make sure you do your work step by step in order for you to know what to do with your files and where to put it...put back anything you took to their right places...make a schedule to check and refile any files that are not on the right place...most of all, keep your table clean and tidy, put garbage on the trash box. At home, Iam a little messy when I get lazy after working...but when Iam not tired or have time off, everything are organized again...hehehe.

• United States
10 May 07
That is my problem, I forget where I put things, or I get sidetracked and forget what I'm working on, example, I have a stack of letters that I need to make phone calls about, some are dated from January ah!!! And I have school and personal issues, so I've always got some stack of papers on my desk, I get them mixed up! Thanks for the advice!

• Philippines
10 May 07
well my friend, you should try this: you need to make a space to put your letters...then you arrange them by months or dates(in your preference)...when you get new letters, you put it and arrange it before you do anything else...coz we tend to forget other things when we are preoccupied with new things we are doing. it wouldn't be that hard at all, you just have to get used to it...try it. GOD BLESS

• United States
14 May 07
That's a really good idea, actually I think I'll start that, and give myself like a week deadline to deal with the letter before I forget about it or a deadline passes, etc.

• United States
27 May 07
I work in a restaurant. At work I am very organized and obsessive about things being in their proper place. All tools, spatulas, and supplies are totally organized. But at home, I am so completely unorganized and unstructured. Everything is every where.

• United States
30 May 07
It's wierd how different people can be between work and home, they can be total opposites! I'm pretty much disorganized all over the place, but I'm trying to work on it!

• United States
10 May 07
I consider myself usually pretty organzied but right now if you looked at my desk you would think otherwise. MY whole thing to keeping organized is to go through the papers when I first get them whether it is the mail or what and then I trash what I don't need and then I have a basket I put everything else in until I can get to the items.

• United States
14 May 07
Yeah, I usually do the first sift-through when I get the mail, throw out the things that are unneccessary but it usually takes a while to actually get around to doing call-backs, etc.