Hunt for Playground Poisoner!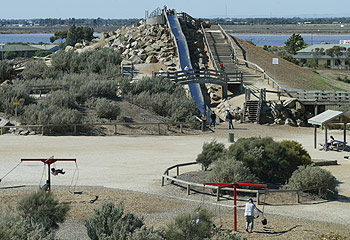 Australia
May 10, 2007 10:09pm CST
Yesterday in Adelaide, some idiot did something really dangerous. There is a childrens playground in one suburb that is extremely popular. It is a high tech playground, with lots of equipment suitable for the older child. It is very well frequented & teachers sometimes take their clasees to this playground for an excursion. A couple of kids were on one of the large slippery dips, & came acroos a strange, liquid substance. They reported this, & it was discovered by Police that it was a pesticide. "Health authorities described the chemical as poisonous if swallowed and also toxic if absorbed through the skin."61 children & 14 adults were taken to hospital as a result of exposure. Police have determined that this was deliberate, & the hunt is on for this complete idiot. See the full story here:http://www.news.com.au/adelaidenow/story/0,22606,21710243-5006301,00.html
7 responses

• United States
11 May 07
OH MY!!! I cant blieve someone would do that!! They could have killed some one!! Man who would do something like that? I hope they catch who evers responcible and put them in jail for a while!! How childish!!

• United States
11 May 07
jenny I wasn't going to respond to any more discussions tonight I'm so tired I can barely read the things anyway and my typing is horrid. I'm glad I did read this first though. I will be keeping all of these people in my prayers, lifting special ones before I go to sleep. Also praying they catch the person who did this and punish them to the max.

• Australia
11 May 07
This is very kind of you to think of these children & their teachers. As the majority of the children were from a primary Christian school, they would certainly appreciate your prayers.

• United States
11 May 07
That is awful. I cannot believe that someone would get their kicks out of doing such things.

• United States
20 May 07
That is horrible. How could anyone do something like that. I hope by now that the kids and the teachers are all okay and weren't hurt by it.

• Singapore
20 May 07
Huh? Pesticide? Seems quite mild a poison if that's the intention. :P

• United States
11 May 07
How awful, I can just imagine the impact that would have on kids here, and I think you guys are lucky that more people did not get sick from exposure. You know, even though the immediate effects can be countered, there can also be after effects depending on the amount of exposure. We all have to be really vigilant wherever we go anymore, it seems.

• United States
11 May 07
tHERE ARE SO MANY STRANGE,WIERD IDIOTS RUNNING AROUND THIS WORLD LATELY. wHO WOULD HAVE THIS TYPE OF PESTICIDE SHOULD HELP THEM FIND THE CULPRIT FAIRLY EASY i'D THINK. happy postings from grandpa bob !!~