Thunderstorms

United States
May 11, 2007 10:37pm CST
I love thunderstorms. My partner thinks I'm a little weird for like thunderstorms. I get all giggly and happy about them. I don't know why for sure but there is just something about thunderstorms that makes me happy. It might be because I link them with happy memories. My mum and da used to take my sister and I into their bed at night when a thunderstorm was moving through and we'd watch the lightening as if they where fireworks. What about you? Do you like thunderstorms?
5 responses

• United States
28 May 07
I like them during the day, I like the smell of all the rain and the sounds. But if they happen in the middle of the night, I hate them! I am a light sleeper so I can't sleep during them and that will make me one grumpy mama the next morning.

• United States
14 May 07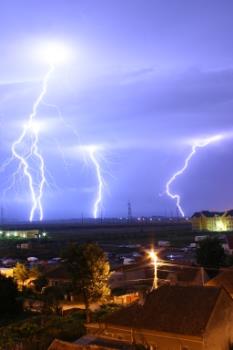 I wouldn't say I get all giggly and happy about thunderstorms:), but I do enjoy them immensely. I don't know where I get that from because I distinctly remember being afraid of them when I was younger and even trying to hide behind stuff to "be safe". I think I would say I enjoy the sense of primal power that is present in a good thunderstorm. To see the blinding discharge of a bolt of lightning and feel the deep rumble of the thunder in your bones as it rolls across the land. The falling rain beating a rhythm on your skin as the wind gusts. My $0.02 at the moment.

• Canada
12 May 07
I love thunderstorms, and like you the lightning is like a fireworks show, and i love fireworks. As a child I was very fearful of thunderstorms. It was one of those moments that my father took my hand and we sat on the front step watching the thunderstorm from far off and getting closer and closer, it was almost like the anticipation of a good show or event. When I was a child fathers worked and had very little to do with their children other than discipline, the famous wait until your fathers gets home scene. I think that was the first time I really thought of love and father in the same sentence. And in his memory I watch the storms now and think of the wonderful times we had.

• United States
12 May 07
haha your weird!! i only hate thunderstorm when i don't know they're coming, because it comes in a suprise then i get all suprised i think thunders are pretty cool to look at, juss that it seems scary....but as long as im not holding a lightning rod, it's pretty cool i don't HATE them, but i don't love them like you do

• United States
16 May 07
I do not have a real fear of storms. I do worry about people if I am responsible for them, though. Otherwise, if it is just me, I feel charged up bu the ions in the atmosphere. When my son was little his dad worked shift work. Dad would come home and take Vince downstairs. They would sit on the porch swing and watch the storm. I was sleepy and pregnant, so I got to rest.