Come on,This is the most Beautiful,elegant Phone!!!

Italy
May 12, 2007 11:01pm CST
Say the truth, this is the best and most beautiful and elegant and cool phone you ever saw..is the Z610i Sony Ericsson! I bought it in PINK..and It's really cool...with many functions and especially is Beautiful!It seems a Mirror and it got a lil screen that u see only when u get an sms or a called,when the phone is quiete the screen disappear! Yes,and everybody look at my phone when I got it in my hands.. what you think about it..?
7 responses

• United States
15 May 07
thats hot but if u really wanna see some hot phones check out the ones they have in Japan. i went to sony.com the other day they have phones over there that r water proof another one u could even watch live tv on it. i need to save up some money and take a trip out there one day. they have all the best tech stuff over there

• Japan
14 May 07
Its really nice but the functions aren't enough for me. I prefer the k series. A good camera is always handy. Right now I've just got an o2 xda trion. Its on the bulky side but then, its a PDA phone. The great thing that I love about your phone is the display on the cover of the phone. Its a very cool piece of technology. I've seen this technology being implemented in mirrors. I'm wishing to own one of these mirrors one day. Take a look. http://www.suck.uk.com/product.php?rangeID=18

• Italy
14 May 07
Yes!Everyone that see my phone like the display on the cover! And i saw the photos you putted,yes thatìs a led over a mirror..I hope that more phones will be like that! And you right, the technology on my phone is very good (umts,videocall etc etc) but there are best phones..only they cost more!

• Australia
14 May 07
Hello valina01 I want to changes my cellphone, first i will changes it with nokia again. But after i see you photo about ericsson maybe i will changes my mind. Pink is my favorite color too, thank you for your information. http://planetmobilephone.blogspot.com http://beautycosmetictips.blogspot.com


• Canada
13 May 07
Looks cool! I am saving for a cellphone, and I want to get a Sony Ericcson. Is it a quad band?

• Malaysia
13 May 07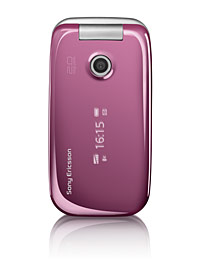 hey i'm using the SE z610i in rose pink too:D ..so we have the same mobile phone! i bought mine in February this year though, sold off my nokia N70 just to buy this lovely phone heh heh..^_^