When did you start feeding your baby real fruit and meat?

United States
May 17, 2007 10:07pm CST
My baby boy is 6 months old and started eating pureed vegetables and those small applesauce type fruit container you can buy in any superstore So those are cooked and I was wondering at waht time you started feeding your baby real fruit - I was thinking about banana for a start because it is very soft What about meat ? ... ground beef or maybe fish ... Thank you in advance to all those who will answer best regards
9 responses

• United States
18 May 07
Yes, it's ok to give your little one bananas at 6 months as long as it's mashed well. You can also try other fruits like papaya, peaches, pears and apples. For the "harder" fruits like pears and apples, I would steam them to soften them. Meat might be a little difficult still if you've just started on feeding solids. You can try tofu though. It's a good source of protein and much softer and easier for babies to eat. You can buy the silken type. If you give your baby yogurt, you can add some of that to his yogurt.

• United States
18 May 07
LOL, I'm only the Dad and do what I'm told. I forgot about the yogurt part. We used to put wheat germ to thicken up the yogurt. None of my kids liked things too liquidly. Tofu though, never thought about that one. Since Mom doesn't like it, I doubt if well use it with our next one (if we are blessed again)....


• Singapore
18 May 07
You can start giving by 6 months.For my son I started giving fruits at 5-6 months. Meat at about 7 months. Better to start with fish and chicken first. Avoid sea foods untill one year. After 6 months of age, the iron stores your baby was born with will probably have been used up so the diet will need to meet your baby's increasing iron needs. 'Haem' iron (the type of iron found in meat) is better absorbed than 'non-haem', the type of iron found in vegetables, pulses, cereals and fruits. Foods rich in 'haem' iron, particularly red meat but also other meats and meat products, should be introduced to your baby's diet by 6-8 months (unless you want to give your baby a meat-free diet). Non' haem' iron from foods such as fortified cereals, green leafy vegetables, peas, beans and pulses, dried apricots, is less well absorbed but provides very useful sources of iron in the weaning diet. You can increase your baby's absorption of this iron from foods by offering a source of vitamin C at the same time, e.g. vegetables, fruit, diluted fruit juice.

• United States
19 May 07
Hi there, I would wait and ask your doctor. Has he had any type of finger foods yet, like gerber puffs? I ask because the fresh fruits might be too chunky, even though it's soft. I know my son isn't ready for stuff like that even though he's almost 7 months. Most docs will recommend waiting on meats until 8-9 months of age so I would definatly wait on those. If you really want to give him fresh fruits, get a mesh feeder so he can't choke. Hope this helps.

•
18 May 07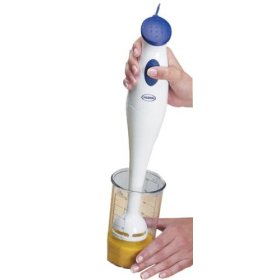 Hi, hope you're coping well! They're tiring at this stage, we've found! Our girl is just over 7 months now and is running rings round us (big black rings around my eyes!). We started giving her bananas a few weeks ago. Just mash it up with a fork in his bowl, our girl LOVES them! Our health visitors also recommended that we give her Readybrek (porridge) or Weetabix for the iron. I would also recommend you get a stick blender. We give our girl pretty much any veggies we cook for ourselves (no salt!) by whizzing them up with this thing. It's much easier to clean than a normal jug type blender too.

• United States
18 May 07
I started all of mine on 'regular food' at around 6 months. Bananas were always one of the first things just make sure to cut anything in small enough pieces that it cant get lodged in their throat.

• India
18 May 07
I started feeding fruits at the age of 8months to my son and 1si mi started with feding egg and later with meat after he completed his 1st yr and later on i started giving him fish,chicken and he is 2 1/2 now and i think it is now right age for him to have prawns also but iam thinking to give him only after he completes 3yrs as then he will develop good digestive system.


• United States
21 May 07
hmmm sounds like a good idea I will have to try it - thanks Today I mashed up a few slices of ripe banana and agve it ti him and he seemed to enjoy it Next time I think I will try to give him a very small piece to see if he tries to chew it How old are your kids now ?


• United States
27 May 07
All kids are different. Best advice is to talk with your child's pediatrician. If your baby's weight is on track, go with his or her advice and your own best judgement. You know your child best. As far as my own experience goes. I started my daughter out on chicken when she was just about seven months. And, she didn't even have teeth at the time. It was her choice. She expressed an interest in the chicken so I gave it to her. And, it remains one of her favorites till this day. About a year later (18 months old) she developed a taste for tacos (mixture of seasoned ground beef and refried beans). As far as fruits go, bananas would be the perfect choice. Maybe peaches, (baby size chunks) cause they're soft and he can grab them with his hand. Just use caution with grapes as they can get stuck in the throat. I used to mash the grape so it would be flat. Offer a wide variety of finely diced fruits and veggies for your little one to choose from. You might be surprised what he likes. As he gets a bit older and capable of eating more, try homemade vegetable soup, so that you can incorporate a big variety of different veggies that he might not eat otherwise. I'm sure whatever you do will be fine. Just follow his lead, and don't be afraid to experiment. Best of luck with your little one.

• United States
18 May 07
I skip baby food altogether. I don't start solids until 6 months, and then start giving tastes of whatever we're having, making sure to avoid choking hazards.