Fake flour babies in school

United States
8 responses

• United States
23 Oct 06
Yes, I think this is a great idea. My boys had to carry around a hard,boiled egg for a week that they had to decorate and make a bed for. They set their alarms to get up for the feedings that us moms had to do with them. I think it helps them to realize what goes into becoming a parent.

• United States
23 Oct 06
Yes, I think it is a good idea. My sons had to do it when they were in school as well. They were required to document who "babysat" the flour baby if they left it alone at any time. They had to keep a journal about what they did every day and where the flour baby was at that time. At the end of the month, they had to write a paper on what they learned. My boys both enjoyed the experience and both stated that they never realized how hard it was to be a parent...to be responsible for a helpless someone 24 hours a day, 7 days a week. Neither of my son's classes had a pregnancy! So many of the girls wrote in their paper that before the flour baby assignment, they thought it would be "cute" to have a baby and how much fun it would be. They admitted that they discovered it wasn't much fun at all. They hated having to ask someone to babysit so they could go have fun and if the couldn't get a sitter, they had to stay home. I'd say it was a successful exercise at my sons' school.


• United States
6 Feb 07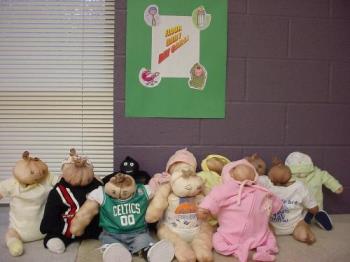 Why do you think this is not a good idea. My daughter carried the flour baby for a week and it made her realize just how hard it is to have to worry about someone besides herself and plan her day around the baby.


• United States
23 Oct 06
I think its a great idea for teens and high schoolers. If your daughter is a high schooler I think it is best you refer to her as a teenager rather then a kid because maybe thats were your starting out wrong. I'm young myself and pregnant and never got the experience of carrying around a bag of flour. It probably wouldn't make a difference, but it would show her an example of the responsibilities that come with being a parent. However, if this really was a KID ( and I'm talking elementary and younger) then that is a different story.

• Canada
23 Sep 07
Well the sack of flour did not cry, did not need changing. I remember when I watched a Maury show about the thirteen year old girls who wanted to be mothers. Some real teenage mothers gave them their babies to look after them after the show. Few of the girls lasted more than an hour and all of them had babysat. Your daughter had it easy.

• United States
8 Mar 07
It is an exercise in responsibility, parenting skills, patience, stamina, life skills and coping skills, just to name a few. Each of my children have participated in this program at their school. I think it helped each of them to prepare for their potential futures. One of my daughter's has three children now and she is so good with her children. One of my daughter's has decided that she would like to work on her career for awhile before having any children. My third daughter is looking forward to having a housefull of children in her future. She knows what it will cost, how big should her house be, how big her yard should be and what that will cost. She has decided she needs to marry someone rich and family oriented. hehehe When I was her age, I did not have that all figured out like her. The bag of flour is only part of your daughter's program. My children were given a full size baby doll that was computerized to cry at all hours of the day and it responded to them. Information was recorded inside the doll and then downloaded into the computer so they could see if they responded in a timely fashion or not and how could they improve their skills. They had to carry their babies in car carriers or kangaroo-type pouches. It is hilarious to walk through the school and see all the kids carrying car carriers along with their coats, hats and backpacks. They learned about child care, child safety, child CPR and first aid. They learned to juggle. Bottom line is They Learned a Lot.

• United States
24 Feb 07
They say it is a good idea, however, they now have these dolls which are like the real thing, and can be programed which is probably better.