Have you ever heard of a fortune teller won in a lottery?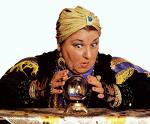 Philippines
6 responses

• Singapore
5 Jun 07
I've not heard of any fortune teller winning in a lottery. But do you believe in fortune tellers? Well, I don't. If fortune tellers can really predict the future or anything for that matter, then they will all be retired. They will be able to predict what numbers will be drawn in lotteries, and they will buy those numbers and win each time with certainty, and become very rich. Fortune tellers have the gift of the gab. They can claim to tell someone's fortune and justify how they derive what they foretell. But if this is proven to be untrue, they will somehow find another explanation to justify why their earlier prediction didn't materise. So they have a way to prevent themselves from being faulted for any wrong predictions.

• Philippines
5 Jun 07
I don't know..sometimes i did coz their doings are a part of evils y'know..

• United States
7 Jun 07
I've also seen/heard of the same techniques used for other types of psychic readings. A lot of time, they will hint at things that are common for most people and the people that are getting the reading will affirm or deny it. Then, the psychic will try to make it seemed tailored to them.


• United States
5 Jun 07
He he, good one. I believe that people who call themselves "fortune tellers" or "psychics" are all scammers. But, I do believe in prophets. The thing is that God controls what is prophesied and what will come true. So, prophets can't really predict things like lottery numbers unless God wants them to. And, I think God is more concerned about gathering his sheep and protecting them rather then one person winning more money than he/she will need.

• Philippines
6 Jun 07
Yeah,you are right. We should have to believe God first because He knows all the things that are going to happen ahead of us even the time when are on our mommy's tummy.

• United States
6 Jun 07
Well,i do have the same question in my mind,since they can predict others future why can't they predict theier own future such as how to win the lottery??? I had heard a lot of eople said they are unable to predict their own fortune,Why???? It's nothing controversial i'm just curious and wanted to know why.:)

• Jamaica
27 Aug 08
To: All Fortune tellers don't have win the lottery, there are enough suckers around to keep them happy. Please don't believe they are the only ones living easy on your hard earned cash.

• Philippines
6 Jun 07
The reason why fortune tellers don't win in a lottery is because they can't predict their future, they can't read their palms and ask questions to themselves about their future. if that so, they must be in a psychic ward right now. The mere fact that they cannot ask payment for themselves is another thing LOL. they do that for a living and as long as there are people who believe in them, they will stay in their career.

• Philippines
6 Jun 07
You have the point..hahaha..they are afraid they could charge themselves at a higher price. But they can ask to an another fortune teller to predict their futures if they could win or not in a lottery.

• Philippines
7 Jun 07
they don't do that.. they might know how each other charges to their customers hahaha..besides they have diff vibes.

• United States
6 Jun 07
That is a pretty logical take on fortune tellers. They claim to be able to tell the future and predict things. I don't know if I believe in them or not. I don't make use of fortune tellers I just don't know if they are legit in what they say they can do. This is a very interesting thought you brought up.