Survive to Live...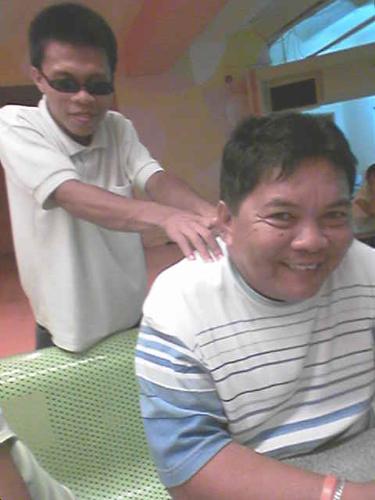 Philippines
June 12, 2007 4:19am CST
I remember two days ago when me and my parents went out to have lunch outside, from the mall where we have our lunch we get to see a blind man alone standing infront of us and we started to take him to sit down where we at and he started talking and shared things about his life to us, his experiences and reason why he get blind and the rest of his stories follows while we keep on talking from one another. Then suddenly after telling us his life stories, he opened up to us that he was a therapist and that he studied for it for 2 years despite from his situation being a blind man, still he have the courage to do those sort of thing. We are very amazed of what he is telling us and we're very proud of his braveness to face such a life challenge in his own. I believe that most of us here have the same challenges that we need to face in each lives, may not it be like the same experiences like those blind man person who've face his 10 years being blind due to some incident that took place in his life before that cause his blindness. Like other people around everywhere, we do have as well situations in life that we're going bare and we need to fight for life in order to survive. So my questions are...'How/how much can you ever take such a life's challenge you're going face in life? Do you have the gutts to face life's reality or fight back in a fact that leads you to success without even stumbling back again from where you fall from your past? Think about one more time the story of the blind man on how he fight back in life in order to survive and tried to live a good life and face his life's challenges with a strong courage and positive mind that makes him the happy person he can truly be in his life right now, though the fact that he cannot see things around him. How much more us, ourselves that can see things clearly which we are given more chances and good opportunities in this life? Could we really possibly make one's life difference or even just to our ownselves?
6 responses

• United States
12 Jun 07
I have a friend who became blind shortly after birth, because of the oxygen that he had to receive to survive. He is a good, kind man. He is college educated, for two years. He also went to several different vocational training schools. He worked for several years as a diesel repair person. That factory closed. He can fix washers, dryers, and air conditioners. He records and catalogues old music for people, and is a real whiz at knowing the names and history of music. He is very capable. You can not change what happens to you, but you can determine how you respond, and how you strive. This blind man came into your life for you to have this lesson. God bless you today.

• Philippines
13 Jun 07
Yes, we are very much thankful for his life's testimonies that he's able to shared with us as well and it helps really to view life's wondrous things and through his living testimonies that helps us build our confidence the more, and the more we put our trust and faith with God. Thanks for sharing.

• Saint Vincent And The Grenadines
12 Jun 07
About facing challenges, human nature is surprising....just when we think we cannot take any more, we find out that when we're pushed to the limits we can put that and much more. That man is the living sample.

• Saint Vincent And The Grenadines
13 Jun 07
Yes, that's true addy. Thing is that we seldom discover our true abilities until they're pushed and demanded to the maximum. Once there we squeeze them fully and we go WOW, i did this. But in the long run it can be good because it can help our self esteem and we can be happier with ourselves.

•
12 Jun 07
Yes, this is a very true story. The blind man would make an excellent therapist because he has experienced the stresses and found ways to deal with them. I have been a therapist since 1976, and I have found that seminars and meditation has uncovered many of my own inner conflicts and I have had to learn to deal with them. I have also had many bereavements and other every-day problems. For instance, even though I meditate and kept myself fit, I had a heart attack last year. This was to do with an inherited condition in my blood that causes it to clot easily. So being fit and keeping my cholesterol down helped me not to have a fatal attack. I am now in a position to understand exactly what it is like to have and/or fear a heart attack. I would not be without my challenges in life because it is these very challenges that give me strength. We learn best from the hard times, so we need to view them more as opportunties and less as disasters :-)

• Philippines
12 Jun 07
Thanks for sharing derek, yeah I remember you're also a therapist and this is good I get to see you're views about the blind man's story, how he take such a courage to face the kind of life he have right now being blind. Just like your experience from the past when you got a heart attack, from such experience you then realized things being those way and the very fact that it gives you more courage and the more strength you gain...that's really true derek like what you said in your last lines that 'we're learning all the best from those hard times and we should make every moment as life's opportunity more than disasters itself. So, thank you so much for your shared thoughts. :-)


• Philippines
13 Jun 07
Becoming blind is actually one of my greatest fears in life. I thought that I would rather die. But thinking about my daughters who are still so dependent on me, I would have to fight back and somehow overcome fears that is brought about by being blind and I have to learn to do new things too. Being blind doesn't mean that one no longer have another option or that one's life is downhill from then on. It is actually a choice, to go down or to go up and would sure choose UP!

• Philippines
13 Jun 07
Thanks for sharing cdparazo, yes you're right being in the said situation such as blindness for example truly is a very rough time for us and it's too hard to handle in one's self in an actual situation specially when there's still people out there who's dependendable still to our needs, like our loved ones and children. So yeah, as you've said it's truly a matter of choice to go up despite from all circumstances in life.

• United States
12 Jun 07
Imelda, this is an excellent discussion and a wonderful experience you have had. I hope that I have whatever it takes to handle what life gives me. Sometimes I feel strong, and other times I do not feel strong. One thing I do know is that whatever I do survive or accomplish, it will be through God. I can undertake nothing on my own. It is only through Him.

• Philippines
13 Jun 07
Thanks for sharing hun, yeah I believe that we cannot be ourselves without God moving in us and through us He works things out for the good of all. I'm thankful for the wonderful experience God has shown us through the life of the blind man and from that moment, we truly see the true beauty of life with God by our side always. :-)