Did you know June is Black Music Month?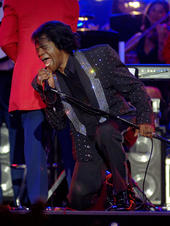 United States
June 20, 2007 3:43am CST
Throughout the test of time many Black music makers have been ripped off due to lack of education and now there is a month honoring them but is it enough that there is a month dedicated to them? Where are the royalties many of them were cheated out of or the rights to the music many gave away because they did not know better. I love what Michael Jackson did when he purchased the right to music created by some of the older artists and returned it to them. Do you believe with all the sampling going on that declaring a month is sufficient or should there be a court action returning the rights to the music back to the creators of it? Is anyone aware of the struggle Prince had as an artist and that the move he made to be known as the symbol was a part of his battle for his rights to his music? I will never forget the interiew with the late great Godfather of soul Mr. James Brown when he said he hears his music all over the place but the first man to pay him for using it was MC Hammer. That gave me a new respect for the man with the diaper pants and the lively dance. Is Black music month enough in your eyes?
3 responses

• France
20 Jun 07
No, it's not enough of course. Royalties should go to the creators but it would also be necessary to change people minds about black people and divulge black music history. It would be important to show the importance of black music and integrate it in mankind social, politic, economic history. We shouldn't talk about black people music or history separated from all mankind history. If we are equal we must show it by facts.

• United States
21 Jun 07
I wish everyone felt that way I often work with many of the artists that were ripped off and it hurts my heart to see them at the age they are working for a check from workfare while listening to the songs they created being played and pimped by others who are still getting rich while they barely get recognition. Yes it stem from more than just music all the great inventions that Black people have created are still being used today and much of the credit went to slave owners an their families. It is sad.

• France
21 Jun 07
Yes, I understand it and unfortunatly it seems that there's not a good work, because of big economic interests, to change mentalities. In my country, Portugal, we still have a lot of racism. Sometimes an hidden one, people say that they aren't racists but they can't imagine a daughter marrying a black person. That's so disgusting that persons don't qualify the other ones only by good or bad ones.. I'm an history teacher and I've always tried to show my pupils what I believe in. We have a big racist history too, it was us, the portuguese the first ones to create the black slavery and we aren't rediming ourselves well enough in my opinion.

• United States
30 Jun 07
God Bless you and thank you for your candor but the good thing is we all are a part of each other and though it may have started that way it was continued through no fault of any one particular people and I want you to know that I think your students are very lucky to have someone so well informed at the head of their class.

• United States
20 Jun 07
I think the courts shoud step in and grant these individuals royalties, no doubt, but to ask if Black Music month is not the issue. That month only will opens peoples eyes (not just black people, but all those who were ripped off) but the fight should continue after Black Music mth..

• United States
21 Jun 07
I totally agree it just brings attention to the fact that these people deserve an honor but they also deserve justice.

• United States
10 Oct 07
To be honest Lady, it's a start, but other than Ebony having June marked off with lovely and interesting articles, Black Music Month is basically overlooked which is sad because we as a people have created some of the best music anywhere. Of course, that is must my honest opinion.