Do you think someone should tell you how to discipline your children ?

United States
October 24, 2006 10:01pm CST
My parents always had a golden rule, spare the rod, spoil the child. Although I wasn't abused, but I did get spanked as a child, only when I did something wrong. I am thankful for that, because it taught me right from wrong. In today's society, I feel this is still needed, but there's such a thing as child abuse, when most of us do not know how to separate the two. I read in the Bible, God says if you don't beat your children, you don't love them. Go figure, comments welcomed.
10 responses


• United States
27 Oct 06
Thank you for your comment, afterall it is your children, Amen.

• United States
30 Oct 06
No one has the right to tell me how to discipline my child. I do think that if children we disciplined better these days there would be less disrespecting of adults. Some parents don't follow through and that leads to problems. I was spanked as a child, and I turned out fine.

• United States
30 Oct 06
I think the children and adolesence of today are complete spolied and disrespectful. They all need to be taught manners and how to treat people and behave in public. Our society is to self serving. If you want it you should have it and NOW! Well life doesn't' always work that way and people think that gives them the right to be rude or mean. Well noting in the world will ever change until we teach our children to love instead of hate, help instead of take, and respect one another instead of only caring about theirself. I am sound silly to some but these people are who are going to be running this land someday and taking care of me and I don't want it to be by someone who cares more for theirself then anyone else.

• United States
30 Oct 06
If I asled for adivce then of course but If I am not asking I would not want anyone to tell me what to do.

• Canada
30 Oct 06
Many Christians interpret the passage about the rod to mean that one should "guide" children, not "beat" them with a rod. The term discipline means to teach, not to react with violence. I think it is entirely possible to show children how to behave without being punative.

• United States
30 Oct 06
I even hate thinking about abused children. However, there really is a need to discipline all children in order to teach them self-control and how to fit into society. I worked with a high school boy who was allowed to do and say absolutely anything he wanted to. If anyone challenged him, his mother could cry "Racism" even though that had nothing to do with it. This boy talked constantly to keep other students from learning, vandalized the school when he should have been in class, harrassed others part endurance, and bragged that his dad would take care of anyone who bothered him. Well, the moral of this story is that that boy is now in prison for attempted murder. His younger brother is in prison, and so is their father for different reasons. You have to make your children realize that what they are doing is wrong! Never let yourself lose your temper before disciplining, because then you might do or say things you'd regret later. Try and keep your cool. Try reasoning with them. Even with a baby you can say NO, and he'll begin to get the idea. Whatever you do, be consistent and follow through on anything you have told the child will happen if he doesn't behave in an acceptable manner.

• United States
30 Oct 06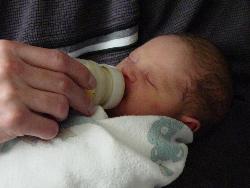 I don't think it's anyone's business how I raise my son. Now, unless I ask for their advice, then I don't mind. But if I don't ask for their opinions, I'd rather not hear it. :)

• United Kingdom
30 Oct 06
I think the only people who need to be told how to discipline their children are those who would never listen. I will smack my children if they need it but never abuse. Decent people know the difference and don't need to be told what they can and can't do.

• United States
27 Oct 06
lol wow were did you read that at in the bible? i haven't got to far into it yet so i haven't read that! but i completely understand.. i was spanked when i did wrong and now a days if you do it you are supposly abusing your child! i think it bs. because i'm really not hurting them! it more like hurting there feelings! and it's not like i intend to beat them, and intend to leave bruses. it's just a lil smack on the butt! it's just getting so ridiculous!

• United States
27 Oct 06
I agree with what you're saying, Min. There's disciplining a toddler with a spank because (s)he doesn't know how to mentally comprehend and explanation of WHY (s)he can't do something, and then there's child abuse. I think abusing a child is one of the worst things I can think of. I do, however believe there is a line, which is NOT thin at all, between the two. Today we have "Time Out" and I think that is a GREAT idea when it gets through to the child. If Time Out does not cut it then a spanking will tell them that whatever they're doing is not good. And some parents say, "But I don't care WHAT a child does, they should NEVER be spanked!" Well, what if that child is doing something that is dangerous and you can't get them to stop with a Time Out or by taking a toy away or whatever method you're trying??? What if they're throwing something sharp/running near a drop off/hurting another child? But then those parents say, "But physical punishment is never the answer!" Well, I say, good luck with your uncivilized, disrespectful, undisciplined monster of a kid, Mom and Dad.