Are you fond of eating apples??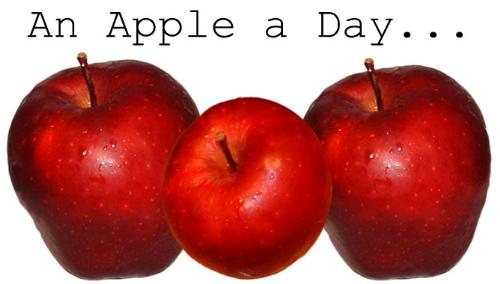 Philippines
July 13, 2007 12:55am CST
Amongst the fruits available in the market, one that i'm most fond of are apples. They really bring great health benefit especially for strengthening our immune system. Would you believe that regular consumption of apples really reduces the risk of cancer (especially colon and lung cancer). Regular intake is also said to prevent heart disease and stroke. Apples are rich in vitamins C and A, and rich in fiber! I have searched in the internet and i found site about "3-apple-a-day Plan". Its like a diet composed of more apples intake and testimonies really say that apples helped in weight loss, coupled with regular exercise. Hmm, maybe i should try this.. and you can too! So how fond are you with eating apples? Do you believe in the saying "An apple a day keeps the doctor away"?
5 responses

• New Zealand
15 Jul 07
Hi there. Apples dont last in our house, they are munch on as soon as we get them. Our children eat alot of apples and so do we. We also use our apples for cooking, as we cook alot of apple crumble or apple pie, or simply stew them with a little cinnamon and a little sugar and freeze them in containers for use as we need them...

• Philippines
16 Jul 07
That's nice, you and your family are lucky 'coz apples are readily available and i suppose, priced cheap in your country. Have a healthy family! Thanks for posting.

• Philippines
14 Jul 07
I wholeheartedly agree with you with all the informations you shared with us about the apples. We have the green and red California apples available in our place. I usually buy both types because I believe that they give lots of health benefits. It is even recommended by health experts that you have to eat the skin of the apples because you find additional nutrients underneath them, provided you have to wash them thoroughly. The fibers in these fleshy fruits help reduce cholesterol as well as weight. I am a hypertensive person and my doctor recommended me to eat apple once a day.

• Philippines
16 Jul 07
Yeah, apples really are high in fiber. When i am constipated, i drink a lot of apple juice and yes, eat a lot of apples.. we also do that with the children. it really works for us.

• United States
13 Jul 07
I love all kinds of apples. We used to have an apple tree in our yard when I was growing up and I used to go out and pick the green ones and eat them. I like red apples too. I am not sure if I believe that an apple a day keeps the doctor away though. I like to eat raw apples or cooked ones and I also like apple pie.

• Philippines
16 Jul 07
You're lucky, i assume apples are almost readily available in your place.. you can eat 'em anytime you want! Thanks for posting.:)

• Philippines
13 Jul 07
yeah recently my doctor adviced me to reduced weight and a friend of mine adviced me to take apple a day and surely did my cholesterol went down and SGTP and SGOT went down as well. Even my blood glucose went down normal although I do not know if it affected my blood glucose too. But I see the real benefits of this fruit. It just so happens that this fruit is not readily available in my place that is why it is price a little bit high.

• Philippines
16 Jul 07
Wow, good for you! Here in our country, apples are imported so they are also priced a little bit high.. but i guess it's worth it.. because of the health benefits we can get from eating apples. Thanks for posting!

• Canada
13 Jul 07
I love apples...all kinds of apples...delicious, mcintosh, gala, green, golden delicious...yummy...luv those apples. It may sound a little strange but I not only like apples by themselves...I also like apples and peanut butter, especially the crunchy kind. Not for everyone I admit...but it sure works for me. In fact your topic has made me hungry...I am going to sign off soon and have...you bet...an apple and peanut butter! And yes I do believe and apple a day keeps the doctor away...it has all kinds of essential vitamins and minerals...but be sure and wash them first...got to get rid of the pesticides...they are definitely NOT health-promoting!

• Philippines
13 Jul 07
Yeah right, i forgot to mention in my post that apples need to be thoroughly washed before eating. Thanks for reminding. I didn't know apples are paired with peanut butter? Maybe i should try it.. hehe. Thanks for posting!