I got a new puppy!!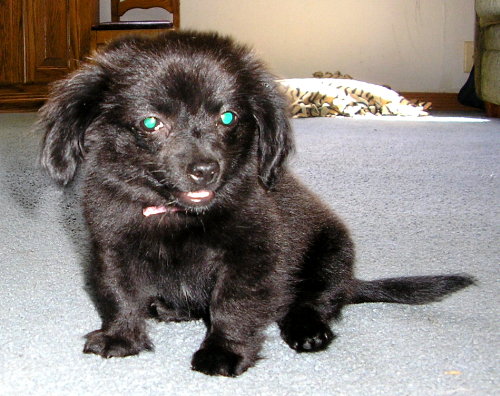 United States
July 30, 2007 1:06pm CST
Her name is Baby. She is a Mini Daschound/Papillon Mix. She is so little. Currently only 3.5 pounds and she will only get to be about 5-6 pounds. I have attached a picture of her. Let me know what you think about my little girl! Do you have animals yourself? What kind?
7 responses

• United States
1 Aug 07
hi, just wanted to say that im happy for ya, and i just got a new puppy yesterday and he's a mini collie otherwise known as a sheltie and he dont get very big either, right now my fluffy is six weeks old and so precious, i absolutely love animals.Well anyways i hope you have a lifetime of happiness with your new dog. :)

• United States
1 Aug 07
I also have a Sheltie. We got her when she was 7 weeks and she is now 2 years old. Her name is Sweetheart.

• United States
31 Jul 07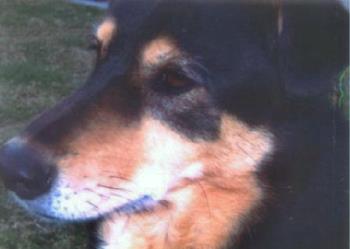 What a little cutie! Look at her little smile!=P Currently I own a golden retriver, a shepard mix, 7 cats, a fish and 2 birds. My family is a fan of the animals! hehe. I recently lost my favorite dog. Her name was Mocha. She was a german shepard/rottweiler mix. Here's a picture of her, she was a beauitful dog and I miss her everyday!

• United States
31 Jul 07
You sure do love animals! In addition to my Baby, we have a sheltie (Sweetheart), a cat (Gina), 14 fish, and 4 hermit crabs.

• United States
31 Jul 07
Oh! My friend has hermit crabs too. Hehe. They kind of creep me out, so I don't own any =P Do you know what kind of cat you have? I have one that is a persin, a black and white short hair, a siamese, and the others are mixed.

• United States
30 Jul 07
Aww she is so cute... I want to have a puppy that big.. The dog I do have is suppose to be that small but after getting him fixed so he can't get any females pregnant he got much bigger and fatter.. ha sometimes my husband call him pork chop cause he's got some fat on himself not to mention alot of muscle too.. You know what she looks alot like my dog..

• United States
30 Jul 07
What kind of dog do you have? My babies brothers are still up for adoption!! :)

• United States
30 Jul 07
I have a Pomeranian mixed with a mini Doberman Pincher he is a cute dog.. it's funny though how he's huge and his sister a tiny little things...

• United States
30 Jul 07
She sounds like she will be a really cute dog. Does she like children? I have cats, and they have never had to be around children, but at least one of them does really like kids. That helps.

• United States
31 Jul 07
She loves the children. She loves to chase them and curl up with them. She's a little lover. She covers me with kisses every morning when she is let out of her kennel.

• Sweden
30 Jul 07
Aww, she's adorable! Her fur looks so soft, I keep wanting to hug and cuddle her. I don't have any pets right now, but I used to have bunnies.

• United Kingdom
30 Jul 07
Your new puppy looks so very sweet. I am sure she will make a very nice pet for you. I suggest going to a puppy class for basic training and socialization with other puppies. Both my dogs loved going to this. Secret is mostly white with black patches and he is nearly three years old. Magic is black and she is one and a half years old. They are miniature poodles with ordinary hair cuts.