My cats are indoor/outdoor pets.

United States
August 11, 2007 1:10pm CST
In the summer, they stay outside for the most part, except to eat. As soon as the kitchen light comes on, and someone starts making and pouring coffee, they are hanging on the back screen. Whichever one of us is up, usually props the door open, and goes on about his/her business. Monday, I woke up really early, 5:00 a.m., and started cooking food for the week, because during the day it is too hot to cook. I had my back truned away from the propped open door, but I began to hear this slurpy, chattery sound. I turned to see a mid-size possum, waiting, as if asking if she could have breakfast too. I prefer the wildlife eat from the compost heap, so I clapped my hands and shooed her away. Do you have any animal stories that you would like to share?
9 responses


• United States
13 Aug 07
Gissi would chase them away, right?

• United States
12 Aug 07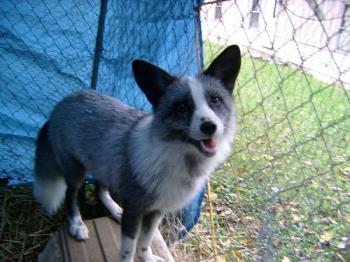 I live in the country, and I used to feed my outside cats on my deck. I used to have raccoons, opossums, and a couple of skunks come up and eat. The racoons, and the opossums would stand right beside the cats and eat. My cats are so used to there being so many different animals around, they don't care. They share. The racoons would stand up by the storm door and look in at us. They were adorable. I also used to have a pet fox, he came up missing right before Christmas, and he was a real hoot. Him and my cats together, was wonderful entertainment. He didn't like to share, and he would scream at them, and push them away with his tail.

• United States
13 Aug 07
He is quite unique, I see you said he came from a breeder, is he bred with something else, or is he a cross of more than one kind of fox? He is gorgeous, but I have never seen anything quite like him.

• United States
13 Aug 07
I don't know, I think it was just a rare breed, they were found in the wild. He was very leery of most people, even the rest of my family. I was the only one he would come up to, and the only one that he would let pick him up willingly. He bit my husband, several times.

• United States
12 Aug 07
I do have a million but this AM on the news there was a story about a pig momma that was headed for the house of no return when she gave birth to a baby big which fell off the truck. He was found later by a motorist and taken to the humane soc. . Piggy went on the news and now calls are comming from all over the world to give piggy a home...My thought is...piggy will not do well in an apartment in the city or a backyard in a neighborhood....Do people just offer because it's little and cute or do they know what it is to raise an animal that will tip the scales more then they do in a year! I think this is why we have so many unique animals in the pounds...This little piggy should go to a local farm or to someone that knows and raises pigs... Good discussion oxxoxo

• United States
13 Aug 07
I agree with you on animal ownership. I know people like to be unique, but it takes special care for special animals. I like to appreciate them in their appropriate places.

• United States
12 Aug 07
OK, hehehe...here's mine. First, let me say that I live in a home that the main part was built in 1833, and it has a dirt crawl space area, and old stone foundation, which I must upkeep yearly to prevent things from getting in. One space I missed was under the steps, and from there a snake got into the space between the siding and the walls and crawled up into the attic. This is how I found it and what I did. I opened the half-sized walk-in attic door to get something out for my son-in-law. As I went to step over the threshold and step into the ancient part of the house (with the attic), I spied a snake directly under my foot just before I was going to step down. Let me tell you, I never slammed a door so fast in my whole life. My s/i/l asked me what was wrong, and I told him there was a snake there, and I aimed to get rid of it! I told him to empty out the plastic clothes hamper with the attatched lid, and I went out to the garage to make a 'hook' and attatch it to a longer handle. I laid out my plan to him...he was to put my safely grandson up higher on a piece of furniture across the room and I was going to hook and fling the snake into the basket (while he held the basket with the lid open) and he should immediately slam the lid and take it outside. Well...you should have seen the look he gave me, hahaha, he was soooooo scared I'd fling it on him and miss the basket. So, I said a prayer not to miss, and that's exactly what I did. Then we took it outside and got rid of it after identifying it. Everybody that heard the story in town gave me a pat on the back for having enough nerve to do that, but deep down I know I couldn't have stood it for it to be there for another second! It's funny what a mother will do to protect their family and little ones. I still can't believe I summoned the courage despite the fact that snakes give me the creeps!!!!

• United States
13 Aug 07
So what kind of snake was he? You did a good job handling it. I am not afraid of snakes, but I would not want to deal with a poisonous one. The others have always been very interesting to me. I do not want to have one in my house, or for a pet, but they make good garden residents. Good story, and good thinking.


• United States
12 Aug 07
When we were younger My cousins bought my Grandma a Guinea pig for Christmas. She didn't like to touch the little guy so she devised a series of steps out of boxes etc so that when she told it to it would go into it s cage. He was so chubby and cute, she ran a fishing lake which had an office, and the little bugger would come out and sit on her foot. I never saw a guinea pig that was so smart. We also had a large duck ,he was wild and had been hurt by a fishing line and he got so used to us taking care of him that he would come up and sit on our laps. I love animals and we have been fortunate to have had many great experiences with them over the years.

• United States
13 Aug 07
Those are great experiences. I did not know that guinea pigs were trainable, either.

• United States
13 Aug 07
probably would have screamed and ran! : ) I'm a country girl but do not care for wildlife like that- Well- this year has been a bad one for us with wild life- I have seen 5 Black bears already- Last year I saw Zero! We were eating dinner one night and the biggest bear I'd ever seen walked right through our land- Leisurely walking- My daughter was so excited! She has only seen them in zoos- Needless to say we carry a flash light when we go outside in the dark and make noise- We haven't even set up the tent yet to sleep in the backyard- Pretty scary for me!


•
13 Aug 07
I loved my budgie when it was alive..It was my bestest little friend..It used to sit on my head ifg I was wearing a hat or headgear or it used to be loyally perched on myshoulder and I used todo all the house work and cook with himon my shoulder..I used to stroke it under its chin and it would turn its heasd upwards so I would stroke the other side..I really miss my budgie..

• Australia
17 Nov 07
hi there GardenGerty my cats are both outside and inside as well so there was a possum in your house how cool is that but one of my cats goes on the bench and trys to look for food i dont like it when they go there cause there hair is on the bench than i have to try to clean it thanks for this discussion