LISTENING to music and DRIVING style

United States
August 15, 2007 2:33pm CST
I almost always have the radio on while I'm driving. I noticed that the type of music I'm listening to will affect how I drive. Slow, soft music will have me driving calm and leisurely. More upbeat music will have the opposite effect. What patterns like that do you notice when you're driving? Is there a certain type of music you won't listen to in the car because it has a really negative effect on your driving?
8 responses

• United States
16 Aug 07
I have never really noticed, LOL. I like to listen to the radio though. I always crank the radio and sing along, LOUDLY. But Ive never noticed how it has effected my driving. Next time I will pay better attention!

• United States
19 Aug 07
That's a GOOD thing if it doesn't affect you any! I'd prefer to have it loud and sing along (when I'm alone of course LOL) but with the little ones with me I try to keep it at a decent level for them...not easy when one of my favorites come on!

• United States
16 Aug 07
I've always noticed that happens to me when I am driving. When I listen to fast music, like house or trance, there are times when I notice that my rate of speed goes higher without so much as me knowing. There are a lot of times where the faster music has suddenly made my rate of speed go 10 miles faster than I am normally used to driving. I don't stop listening to certain music just because it has that effect, but I am a little more careful about what I am doing while driving.

• United States
19 Aug 07
Absolutely! There are certain songs that are just simply "fast driving" songs. It's just the way it is and there's not much anyone can do about it!

• Canada
15 Aug 07
Well ive certainly noticed when there is upbeat music i become more stressed driving because my 4 year old likes it loud.Thats why we have sirius radio and its always on #2 or #8 station;slow beat,pop music.Im more at ease at the wheel.Plus the french radio station here,i will never listen to it in the car,i can speak french,but i find the station VERY annoying with the old banjo fiddlin flying granny music.I almost slipped there,i was becoming annoyed just typing it down!Ha,Ha!

• United States
19 Aug 07
I get stressed if it's loud too! My s/o likes it loud in his truck. As soon as we get in he turns it up, then he tries to talk to me and I can't hear him, the kids try to talk and I can't hear them...so then there's the constant "What?" "turn it down!" "I can't hear you" "MOM!!!" throughout the entire car ride. It's SO frustrating!

• United States
15 Aug 07
You are totally right. I have noticed the exact same thing. When I play harder music while I'm driving, I definitely drive more aggressively.

• United States
17 Aug 07
I will listen to anything while I am driving, but I I want to listen to slow soft music when I am driving in a stressful situation. For instance, I hate city driving, and I can get really edgy if I am driving in heavy traffic while listening to certain types of music. I need something more calming and relaxing for that type of driving.

• United States
19 Aug 07
I'll even just turn it off completely if I'm in really heavy traffic. I don't drive in those conditions very often so they tend to cause a lot of stress! ...I got distracted and forgot what else you said! Be right back!

• United States
26 Aug 07
I only listen to Christian music, so can't answer to this. I like being uplifted, or soothed or given good things to think about. It's too stressful out there without striving to stay close to God.

• United States
27 Aug 07
I actually really liked your answer. It's good that you stay close to God even while driving and/or listening to music. I like a lot of Christian music. Only one Christian radio station comes in clearly in most of the places I drive but they have a lot of "talk programs". I catch a few songs once in awhile but that's it. I enjoy some of their speakers but am put off by others....well one in particular. I don't remember his name but I recognize his voice. Some of the things he says come out wrong (at least I HOPE he doesn't mean them the way he says them) and it sounds really offensive. I know I'm going way off topic but want to explain (and hopefully not start an argument with other users about what he said)...His sermon was about how Jesus instructed us to love others, even nonbelievers. He referred them to them as "un-churched" and "under-churched", that in itself didn't sit right with me because the way he said it sounded as if he was implying that people HAD to be under a church authority to be Christians. Anyway, he went on to state that Christians need to reach out to and love...and then he listed off several minority groups. It sounded like he was saying that those minority groups as a whole were nonbelievers...or rather that they were all a bunch of sinners that didn't know God and wouldn't get into Heaven but we should love them anyway and teach them the right way. It all just sounded very white supremesist to me...white people are God's children and all others races aren't. I hope he didn't mean it that way because otherwise that radio station is a very good one and I can't imagine they would let someone come on there with that kind of attitude but it was offensive nevertheless and I quit listening after that statement and haven't had that station on since.

• United States
28 Aug 07
Foxy...you can hear bad or even un-christian statements from anyone, even on a christian radio. You have to use some discernment when listening. Sometimes they will make mistakes too. Hope you give the Christian radio another try despite what you heard from this man.

•
27 Aug 07
That is most true. In the Philippines I have observed this kind of phenomenon. In Manila, the jeepneys and buses play rocky music and the drivers are nasty and quick-tempered. Meanwhile, in Baguio City you hear country music in the buses or jeepneys and the drivers are very mild and gentle. I am not driving any car but I can say that I am very much affected by music. When I'm cleaning the house I want music that are upbeat and somehow they keep me going and not tired even if I clean the whole day. But when I'm studying or just reading any book I want to listen to classical music because it increases concentration. You see one cannot just dance without being synchronize with the rhythm of the music. Even unconscious babies get affected by music. I even heard that plants also react to music accordingly. It just shows that one must be careful in selecting what types of music to listen to for music speaks to the sould indeed.

• United States
27 Aug 07
That is anoher time when music affects my "speed"! If it's slower music I'll just go about te cleaning and get distracted from it easily because it seems so boring. If I have more upbeat music on I zip right through the housework. Thanks for bringing that up! I also agree that music speaks to the soul and affects us in so manyways without us even realizing it.

• United States
27 Aug 07
the new country music that my son listens to makes me agitated. I can not stand to drive with it on. I like my blue grass and classical just fine :) as well as the ecclesiastical stuff I listen to. thank goodness for cruise control, though, huh? when we were in southern oklahoma where the roads were so straight there was narely a bump in them let alone a curve - it was very easy to speed along. once after looking at a house we liked my hubby was excited and he found himself going about 80 (speed limit was 70) we got pulled over and the officer saw the plates that we just moved in from out of state, he laughed and said he understood how easy it was to let the pedal get away from you like that, especially when there is good music on the radio and not a car in sight to pace yourself to. he said he had done the same himself - smiled and said try and be more careful. :) no ticket.

• United States
27 Aug 07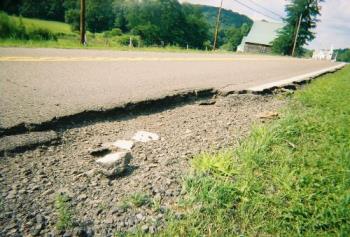 That was lucky for you that the police officer was so understanding! I don't have cruise control nor do I know what it's like to drive on a straight road with no bumps, but it sounds like it'd be great...or maybe not LOL my right foot is a little heavier than my left!This is probably the only opportunity I'll have to share this photo, so here it is...it's an example of the roads I'm used to driving on.