The Melancholy of Haruhio Suzumiya Review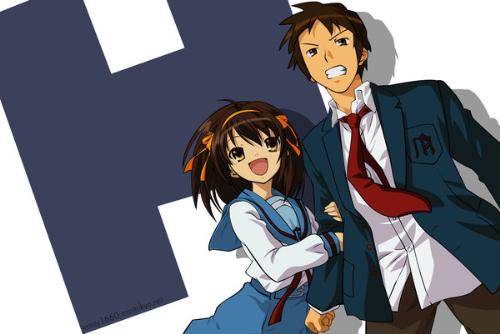 Mexico
August 17, 2007 11:35am CST
I recnelty looked at this excelent anime, have a lot of interesting thinks, i will tell you more of this series The story focuses on a "normal" girl called haruhi suzumiya, she is not like you and me, she said she dosent like ordinary people and only if you are an alien, time traveler or sper go with her, becuse normal humans bore her, tghe a special boy named kyon star to talk with her, looks like the only person that talsk with her, she said was bored becuse all the clubs on shool have nothing in special, so this boy gave her the idea to make her own club, this clubs as she said was made to search all kinf of extrange thinks and have fun with them, the club was call the SOS Brigade, she convicned other person in the shcool to join her, but like i said she is diferent, she lokos like have extrardinary power that she dont know to have, and the other members aren normal too...
5 responses


• Philippines
29 Jun 11
If you're going to watch season 2, you'd better skip from season 2 to 8 or 9 because ever episode in between those are just the same. just an FYI, unless you want to watch the same thing over and over with slight variations to it...

• United States
8 Sep 07
I liked it and I can't wait for season 2 to come out. Also make sure to watch Lucky Star after watching Haruhi. You'll like it.

• Philippines
8 Sep 07
i was about to watch this some time ago but i wasnt able too because some thing came up. but i saw in the opening that haruhi was wearing a bunny costume and calling costumers. i'll find time to watch this...