how do you get your husband to help you around the house?

United States
3 responses

• United States
6 Sep 07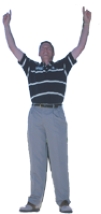 Just don't do it, you have to be able to stand it for about a week and get him to do the big stuff like the dishes while you clean the stove and floors, you can put the dishes away, that way you will be able to find stuff, make him fold and put away his own laundry and then just ask him to just cook the meat you can do the rest. Trust me sometimes it's easier to do it yourself, try not to give too many instructions as well. I love my husband and it's one way we can spend time together too. Mind you must help while he is doing the yard work and hand him cold drinks while he is doing repair on the cars and hand him clean rags too. He will enjoy helping you and so as he sees the togetherness it brings

• Latvia
6 Sep 07
What I do to make him help me around the house, I just don't do things that he needs todo and thats it. If he forgets to wash the floor I don't do it will it gets really dirty and he just can't stand it anymore and do it himself. The same is with the other duties around the house which is his. First of all I tell him what I want and expect him to do around the house and after that wait till he does it. As simple as that.

•
4 Sep 07
Oh I can do it easy. See if I need help, hubby has learned to offer it to me and I don't even have to ask him now. When we first got together he thought I should do it all, the cleaning and the cooking. So fine I did, but come bed time, well I was just too tired for anything else but sleep. So, it didn't take him long to figure out he needed to start giving me a hand when I asked. Now I don't even ask, he sees I am getting tired or to just help me out, he does things around here from time to time.