Zues is ok

Canada
September 11, 2007 3:18pm CST
He made it to the vet again Monday evening , he was prescribed Cortezone injections for a month , and also a pill every other day ... Most likley for the rest of his life ... Once he had them in him He was almost like a puppy again ... Well He ate again finally , almost two cans all at once , then my upstairs neighbour gave him a stir fry she had left over and he gobbled that up like He hadn`t eaten in days , well probably cause he didn`t ... I was so happy to see Him wag his tail again and jump up on the coach ... I cried ... Just wanted to let you all know he`s ok , now I`ll be able to spend more time here again ... Maybe I`ll get caught up a little at a time , or I`ll try ... Thanks for listening ...
5 responses

• Cyprus
11 Sep 07
I've read you other thread about Zeus too. Very happy to hear that he is doing well. But 8 years is not very much for a dog to be considered as old. I had almost 2 years ago, Collie, she was 14 yo. She was considered as a old dog. It is kind of strange to hear that 8 yo dog would have this kind of problem. But i'm happy to hear that he is ok now.

• Canada
11 Sep 07
Thats why I wasn`t sure what was wrong , at first I thought he ate something he shouldn`t have , and waited to see how he would be the next day , but it only got worse ... I got him when he was 2 is what I was told , that was in 1999 , but he still did everything like he was younger than that so I figured he was about 1 year old ... That would have made him ten in 2007-2008 ... There were no records with him so I`m guessing by the way he acted ... I could be wrong , but then when we took he to the vet they confirmed his age for me ... Anyways he is better for now , I hope he stays that way for a very very long time ... Thank=You so much for caring .... keeper ...



• Canada
17 Dec 07
Thanx so much gabs , that means alot to me I`ll keep you posted on how hes doing ..

• United States
12 Sep 07
((( HUGS ))). I'm so happy Zues will be ok! I know though the cost of the meds will probably kill ya. But is it any different than a human being on meds. We do what we have to. Give Zues a big hug for me. He is a real trooper.

• Canada
17 Dec 07
I will and thanx , He gets more hugs now than he ever has , he knows hes loved and thats what matters ... Yep the meds are alot but what can I say if he needs it and its working well he`ll get them ... Thanx again !!!

• United States
11 Sep 07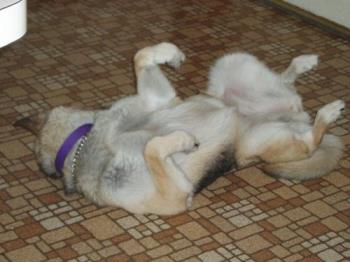 I'm so happy to hear that Zues is going to be ok. I also have a German Shepherd that will be 10 years old next week. She runs around like a puppy when she is outside or playing with her ball, which she loves. I think that you and Zues will have many more happy years together.:)

• Canada
17 Dec 07
I hope so and thanx for the boost I need to be with him he is a good ol boy , I hope he will run and play again... His problem is that every ball he gets he bursts the dummy , can`t keep one for a day or two so he doesnt get them anymore .. Only cause I cant run and buy him one every time ... LOL LOL LOL Oh well

• United States
11 Sep 07
So glad to hear that Zues is going to be doing ok . They are just like babys when you are close to your pets . I have two ones a lab and one sooner ,both came to my house and I took them in so they would have a home .I now have a female cat that came here about 2 weeks ago and she has 2 kittens so now I guess I going to have a new cat with kittens unless someone stops and says they are thiers LOL , Best of luck with Zues and may you have him for a long time .

• Canada
11 Sep 07
Thank-You , You sure got your hands full ... I almost hope you find out who owns them , unless you want them ... Did you call the pound and ask if she was reported missing , its probably the best you can do , like I say unless you want them ... Yes zues seem much better , I`m sorry I`ve been spending so much time away ... But what can I say He had to come first , He didn`t know what was wrong with him ... He would just sit and wimper and staring back at his behind almost like he was wondering what was wrong with him , why is it hurting , POOR FELLA ... I had to be there for/with Him as much as I could ... Thanx again for caring ... Let us know what you decide to do with the kitties , and GOOD LUCK !!!