I got "Boo-ed" today!!

United States
October 21, 2007 10:51pm CST
Well, actually it was last night, but I found it this morning. I have never heard of this before, but it seems really neat. OK, we opened our front door to go out today and found a Halloween gift bag with a balloon on our porch, and a note sayed we had been boo-ed. Inside was a poem with a paper ghost. The poem was this: *** The Story of Boo-ing Late last night, we left you a treat, The tradition is fun, one we hope you're complete Take the ghost and pit or tape it by your door To let others know you need ghosting no more. Now it's your duty to pass on the surprise, To two more families we must advise. Gather some treats and deliver them soon, within two nights, Under the light of the moon. Include a ghost with each package you give, Along with this poem for the tradition to live. *** There are some Halloween pictures on the note, so it's really cute! There were some candles, a towel, some buttons and knick-knacks in the bag - all relating to Halloween. I'll put one of my 2 out in the morning when I go for my walk (not many people are up and around at 6am). I'll do the other one Tuesday morning. It's not too late to start something like this in your community, and it looks like it's lots of fun!!!
6 responses

• United States
22 Oct 07
We did this in our school last year, and the neighborhoods around. It is fun, until you meet up with people who do not do holidays because of religious beliefs. I do not know how it would work this year.

• United States
22 Oct 07
I live in a pretty small neighborhood - I think less than 200 houses. We're all pretty into the community, so I don't think it would cause hard feelings if someone got one and didn't want to participate. What I think they'd do is just give their gift bag away to someone else and not keep the stuff.

• United States
31 Oct 07
Hey that is pretty cool Dawn! I have never heard of anything like that. Sort of like a Halloween treat for the grown ups! lol Its a little late this year, but I think that Im going to do that for my friends next year. Thanks for the great idea! I love fun things like this. :) Bay xx

• United States
31 Oct 07
If you start it around the first of October, it's a good chance everyone in the neighborhood will have gotten one by Halloween. I thought it was lots of fun!

• United States
29 Oct 07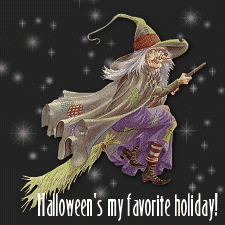 Oh My, I love this and am so sorry to have gotten to read it so late. I know that I will be doing it next year. I'm so excited. It appears that someone has taken the May Day tradition of sneaking flowers around to others to a different level. Thank you so much for sharing this. I was just reading the titles of some of your posts and one of them said you have been really negative. It certainly seems as though you are back to who you really are now! Sometimes it just takes a little Boo (or maybe a little boo-hoo with a girlfriend or with a bunch of MyLot girlfriends) to get the gloomies away. Don't worry about negativity, dear woman, we all go through that at times. And....when we see a sister that is going through it, it is our DUTY to step in and help. With love and blessings~ D

• United States
29 Oct 07
Thanks for the boo-st!! Yes, I was a bit negative about 4 weeks ago (and it's swinging around again...) but it was really cool to have some community spirit going around. I finally got my 2nd boo out yesterday because we had so much rain lately. It's really neat and community oriented - seeing everyone's ghosts on their doors because they've been boo-ed!! Good luck next year with it - I hope we do it too!!

• United States
24 Oct 07
Target has Boo-ing kits so you don't have to try to come up with your own. At least they did a couple of weeks ago. I think this idea is so cute!

• United States
25 Oct 07
AW MAN!! I went to the party store and spent about $20 on stuff last night. And it figures, it's been raining ever since so I can't even go leave something for my 2nd person I have to do. Hopefully it wont be raining in the morning. I'll have to remember Target for next year!


• United States
22 Oct 07
I have talked to some of the nieghbors and they are having a good time with it also. I hope we do it again next year!


• United States
22 Oct 07
I had never heard of it before either - but it was really nice seeing all the ghosts on peoples doors (which I hadn't really noticed before...) that were participating! Good Luck!