Do i feel stupid!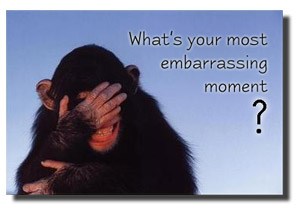 October 26, 2007 7:23pm CST
Earlier today i had a dose of diarrhea at school and had no idea what to do. i was sitting beside Lucy, my dream girl and was rapidly losing control of my buttox. i was trying to look calm but inside i was a comlete mess as i feared an explosive eruption followed by a smell that would destroy a plague of locust. Lucy asked me if i was alright as the 'smile' i was projecting was looking laboured by the tears that were streaming down my cheeks. (facial cheeks) I looked at her with my red eyes covered in tears with my fake smile still etched on my face and whimpered "no" with this declaration of truth my bowels emptied with the explosive force of a small nuclear device. windows were blown out and classmates were scarred for life. my pants as well as my reputation were ruined for life. still, got me the afternoon off school!! anyone else had an embarressing situation?
6 responses

• Australia
27 Oct 07
I feel for you buddy. Still if you have to go you better go


• Turkmenistan
27 Oct 07
Oh my goodness, if that were not so sad, it would read like a joke. Why didn't you just make an exit and rush to the nearest restroom. You have ruined your rep for the entire semester. Oh, I do feel for you. Next time, just make a run for it. But, look on the bright side, you will be quite popular. Try and make a joke of it to ease the pain. Sorry to be so harsh, just being realistic.


• Malaysia
27 Oct 07
Stupid mean inability to learn. But you are a fast learner person. Regarding my embarrassing story so far not a big deal to tell because it was only a small happening where I forgot to re-zip-on my jeans after came out from washroom, unfortunately I tugged in my T-shirt. So it was like a free fashion show on walking alone in the mega mall with huge crowd. Feeling proud as I thought I was pretty enough(preen oneself) as majority stared at me with sneaky smiles until I got home. Once got home, I realized those embarrassed moment of my free show. Not much can help myself...smiling...and just said, let gone be bygone. Thanks, xboxboy.

• United States
31 Jan 08
Nothing compares to that xbox, but a friend of mine was in the club with the rest of us cutting loose and sharing a dance with a really cute guy she had met only days before,and was clearly crushing on.A song came on and she felt the urge to drop it like it was hot all the way down to the floor...she came back up and let one rip, only it wasn't just gas! She sharted all over herself!!There was no way I was gonna drive her home smelling like that.The guy felt so horrible that he did the deed,you know, they are still together!!!He just doesn't take her dancing anymore :)