Downy Woodpecker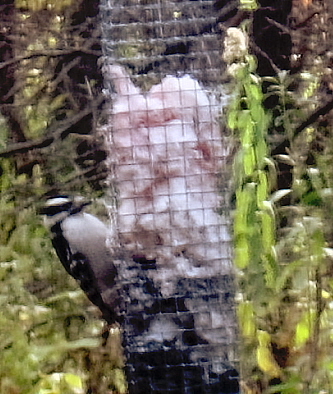 United States
October 29, 2007 12:09pm CST
At the local nature center on Sunday I sat at the wildlife feeding area hoping to get some great photos but to no avail. Ugghh! Hahaha. I did see a few varities of local birds eating. This is a Downy Woodpecker I believe eating some suet thats part of the feeding area. It was great to weatch flying from one suet feeder to another eating away it's afternoon. I didn't eat that afternoon I just sat watching them eat. Hahaha! So what kind of native birds photo have you got to share? Or how about a stroy about an adventure/encounter you had with local bird life? HAPPY POSTINGS FROM GRANDPA BOB !!~
4 responses

• United States
30 Oct 07
That is an awesome photo hon. It's been quite a while since I've been out to the wildlife refuge that's a few miles from where I live. I remember the last time I was there. The first thing we got to see was a nest of baby golden eagles...they were peeking over the edge of the nest at us, and they were so cute with their white downy feathers. Mama was sitting right near the nest making sure we didn't mess with her babies. Further down the road, we came face to face with a humongous great blue heron. He stood in the road until our car was almost right up to him, and he flew up and let us go by, and then landed in the same spot. He did the exact same thing to us on the way out too! About that same time, I happened to look to my right, and about 50 yards away was a tree with about 15 vultures sitting on the branches. Sheesh! they are ugly! LOL

• United States
30 Oct 07
I decided one year to do a planting in the rear of my yard of various sizes of marigolds. I planted them, and they disappeared. I sometimes found uprooted plants,and they were whole. so I knew it was not something that was just a bug. I replanted, they disappeared, but I realized that I kept hearing crows calling. When I checked with the garden center, they confirmed what I had guessed. Crows really love marigolds.(petunias, too) and have a reputation for doing this.

• United States
30 Oct 07
Yes they do. I hardly see any crows here until I set out Marigolds and or Petunias. HAHAHA!! HAPPY POSTINGS FROM GRANDPA BOB !!~

• Canada
30 Oct 07
Hi.Every year the Canadian Geese fly avove our house and and behind it in a oat field after it has been cut down.We are on one of their main migrating paths and its behind my house,hahaha.Also "Snow Geese"land here too.They are soo beautiful,big and white like the snow and very loud!I tried to get some pictures but our path that leads to the field is noisy with the crunching of sticks and leaves,plus its impossible for me to be quiet when i want to,hehe and i scare them or either its my daughter running down the path "MOMMY!,MOMMY!".Im like "WHAT!!!!!"Hahaha.Grrr:):)P.S:Im still waiting for my stupid ink cartridges to arrive to show some pictures from before of birds here,very slow. Peanutjar:)

• United States
30 Oct 07
Oh lord do I see the geese and mallards flying above my house being so close to the nature center. HAHAHA! Must be kewl to see a gaggle of geese in the field though. HAPPY POSTINGS FROM GRANDPA BOB !!~

• United States
9 Nov 07
No pics but I do have a funny story to share with e1 here about a bird that was flying around in my yard. I went out to the shed to crush some cans and was standing there just watching the birds darting here and there couple evenings ago. Suddenly, one just flew right into the shed, circled round once and landed on my shoulder. I glanced over at it and it started pecking my glasses as if it were a pet. Just nibbled away then moved to my hair, then ear. Just as fast as it came in, it left with a chirp. I have no clue why the bird did that. Just thought it was funny being it's rare for a wild bird to do something like that. Think it was a swallow or maybe even a male goldfinch being it was brown.