The Baby Bird Drama!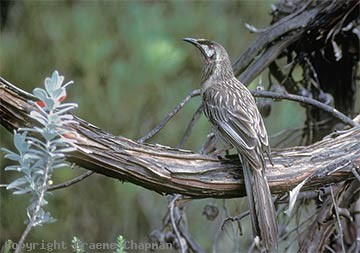 Australia
October 30, 2007 8:30pm CST
A couple of months ago I posted a discussion about the native Wattle Bird nesting in our carport. She had not had success with her first two attempts at raising chicks, but a lot has happened since. With her third laying, there were four eggs, the forth being layed a a littke later than the others. They all hatched. We did not get too close, as the mother Wattle bird gets scared, & once the babies are a little older they easily fall out of the nest. After one week or so, we cfould see little beaks & heads appearing above the nest. Mother was flying in & out with food & the babies made squeaking sounds. Soon after, the four babies were sitting up on top of the nest. They were very cute. They became more confident & stepped out of the nest. I knew then it wouldn't be long before they learned to fly. The problem was, the dogs. We put both dogs around the other side of the house where there is a narrow closed off space. It took three of the fluffy baby birds less than one day to learn to fly, & they wwere up in the fruit trees. Not so the fourth. He got out of his nest, & half flew to the ground. Then he quickly walked out of the carport, dopwn the lawn & kind of flew to a fruit tree. Every houy or so I would go out & check the fruit tree. He appeared not to be able to fly at all well. So the dogs stayed out the side of the house all day & all night. By the following day we couldn't locate the non flying baby, so we had to assume that it had learnt to fly. Two weeks later the mother bird was back & had layed four more eggs!! There is more to this story, which I will relate soon.
4 responses

• United States
31 Oct 07
Oh, what a drama to watch! I bet it was fun. It is good to think about what to do with the dogs while you had flight training taking place in the fruit trees. Did you ever figure out why she was not successful the first two time she tried to raise chicks? You sound like you are going to have a regular wattle bird nursery on your hand for some time. I will expect to be reading more.

• Australia
31 Oct 07
The very first time her babies were eaten by a rat. We pout out rat bait, but our cat caught the rat quickly. The second time was tragic. Hubby tried to get much closer to take photos. As the babies were more mobile, they took fright & tried to fly off. Two were caught instantly bu the dogs, & two flew away. We have been very careful ever since.

• United States
1 Nov 07
Flight training going on. HAhHAHA! That's good.

• Australia
2 Nov 07
I can't say for certain what kind of branch the wattle bird is on, but it is an accacia of some sort.

• Philippines
31 Oct 07
You are very lucky to witness that kind of miracle from nature... why don't you take a chronicle it through video and you can send it to like the National Geographic or Discovry Channel... i think they would love stuff like that... i will wait for an update on your wattle bird tenant...

• Australia
31 Oct 07
I don't think our video is of a good quality. We don't want to get too close as it scares the birds. We would need a video with a long range. It's a good idea though. I will tell my husband & see if he can think of a solution, as we have a second bird of a different species who has laid four eggs.

• United States
1 Nov 07
Now this was a learning experience for you all. I would have loved to have seen it first hand. I've watched didfferent species of haws and falcons eggs hatch on the internet via webcams. Looking for the other discussion(s) along the line of mother wattle and her babies. HAPPY POSTINGS FROM GRANDPA BOB !!~

• Australia
2 Nov 07
Yes, it has been wonderful to watch all this. BI have replied to your response on the other discussion re. the baby birds, so you will know the next BIG NEWS.

• United States
31 Oct 07
Wow, she is one busy mamma bird! I hope the little one found his way and learned to fly ok. It sounds like he may have had some trouble though. Will be looking forward to your next post on the new clutch!

• Australia
31 Oct 07
Yes, I will have a new post on the latest clutch, plus another new nest with a different species near our window!