Creationism VS Evolution

United States
November 19, 2007 8:00am CST
I am writing a essay on this topic and I would like to hear what others have to say about it. The creationism theory is that the world was created by God and that man was one of the things he created during the 7 days of creation. Evolution says that we all started from one life form and through a series of mutations mankind was formed. What are your thoughts on the subject.
11 responses

• United States
21 Nov 07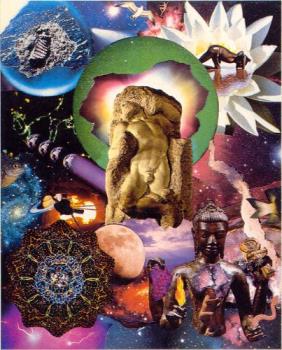 pastorkayte, Dear heart, you are being sucked in. Please don't allow this to happen to your sweet spirit. I don't know what I believe in. If Evolution was how we were created, then Creator had to Create "something". How in the world can one point be actually proved over the other? It is akin to Heaven and Hell. How can we prove they exist? How can we prove that when someone transitions they "go to a better place". Would it not be wonderful if all of life was that simplistic? The older I get the more blurry these issues become; but at the same time, the more alright it is that these issues are blurry. I believe in Creator/Creatress, God/Goddess, The Universal Law of Cause and Effect, The Great Spirit I am Nothing and I am Everything and that is where I believe that I came from. Your sister in Love and Peace~Donna

• Philippines
20 Nov 07
Creation is more believable than evolution.If we will believe in evolution then after all these years monkeys are gone and evolved as man.If you try to contradict creation for the sake of argument,what will be your stand; the big bang theory,evolution or what.With creation everything is in order,all other theories will crumble scientifically,historically or by mere common sense.Before man has proven that the earth is round,the bible is saying that the earth is round long before Magellan has proven that the earth is round through his voyages.

• United States
20 Nov 07
What is wrong with you. No where in the bible does it say that the world was flat and you only need one book to tell you that. Science doesnt give anymore information than either because even the most intellegent man thought the world was flat. However the church did no more than the scientific community to change something that was a matter of public opinion. God however knows the world was round, but here is a theory. Historically and scientifically proven facts have disproved all evidence of evolutionary influences. We simply were and science cannot prove otherwise, so instead of believing an almighty God created everything, they choose to believe that we are a freak accident through centuries of mutation we just suddenly were. They also believe its a survival of the fittest, so when does the new race wipe out the human race in your alter reality. Like I said before I like real scientific reasoning, like rdurusan gave me, something to base real theories and conclusions on.

• United States
20 Nov 07
Again, I was not adressing you. I was talking to the person who said that the bible says the world was round before science did. That's hilarious. I was correcting him/her, and enjoying it. Very much. Maybe you should do some real research for your precious paper instead of asking people on mylot. Will you be including us in your footnotes??


• United States
19 Nov 07
I am always so amazed that people out there are still struggling with this question. Its all because people who follow christian religions want to be absolved of free thought. They take the bible at (their interpritation of) face value, and thats it, end of discussion. Well, if you want to talk about how religions view creationism, you CANT go on just what christians beleive. There are more religions out there, you know. Native Americans believed that the entire world grew out of the shell of a giant turtle. They belived this LONG before jesus christ was even born. Religion is the easy answer. Its the answer that dosent require aditional thought or criticism. My bible says "insert any thing here" so thats the way it is, and i dont need to challenge my brain any more about this. End of story. Religious types make me laugh... but they also get very tiring after a while.

• United States
19 Nov 07
Okay the purpose of my paper is creationism vs evolution not creationism vs turtle, thanks though I like to keep it on track, I only need the two topics I wrote about. Thank you.

• United States
20 Nov 07
I was just pointing out the factthat there are quite a few theories of creation. Its the christ religions who like to stuff their fingers in their ears and pretend there are only two. Thiers, and the wicked theory of evolution. If I was writing the paper, I would probably include this fact, bust I would never expect someone like you to broaden your horizons of thought. Good luck!


• United States
19 Nov 07
My thoughts are how can something come from nothing which is what evolution states. You can't make a cake from nothing. Also a cake won't make it's self. Only a creator can take nothing and make something. A cook has to be involved in order to have a cake. Everything is too complex for life to have evolved. The evolutionest interpets science onw way and the creationest interpets science another way. They are both looking at the same thing but interpet what they see different.

• United States
19 Nov 07
Evolution does not state that something came from nothing. It fails to encompass how life came about - it only covers how life has changed over time. As for whether life is too complex to have evolved - this is an opinion. It is not falsifiable, and not an adequate reason to discredit evolution. You can't test to see if life is "too complex" to have evolved. The only problem with the evolutionary theory is that it doesn't address 'why' things are the way they are. It explains only the how's and why's of why living organisms change, or evolve, throughout time.

• United States
19 Nov 07
I understand your thinking, evolutionist do believe that something came from nothing. To clarify this see Darwins theory of evolution. It is believe that there was a cosmic explosion that created the earth and started life called the big bang theory. But for this paper I need opinions on why people think each side is right so thank you.

• United States
19 Nov 07
Just to make it clear - the actual theory of evolution does not talk about how life was created. Evolution, as discussed by the evolutionary theory, is a biological process. Biology is the study of life. Therefore, there must be life in order to have biological evolution.


• Murfreesboro, Tennessee
7 Dec 07
My problem with creationism is that every religion and society on Earth has had their own creation stories. So why does the Christian one get mentioned while the rest of them don't? I don't believe that the Earth and mankind and everything was created by the Christian God. I do, however, believe it was created by divine beings. :) As for evolution, it has been proven that humans and animals evolve and change. We can easily see the evolution of humanity over time if we look at archaeological finds. However, that doesn't exactly prove that all creatures came from one life form... just that individual species types evolve from one form to another in order to adjust to the demands of finding food, escaping predators, dealing with climate changes, etc. Evolution to that extent is pretty hard to ignore. So I suppose you could say I believe in both creation and evolution, though not in "creationism" if that only includes the Christian creation story.

• United States
8 Dec 07
That is something that you should research. Faith keeps me from believing that though. Humans dont actually evolve to me they just change. Lets say your mom is five three and your dad is six three then chances are fifty fifty that you would be six three so I think its more genetics than mutations that cause us to change. Another thing is some archaelogy is for the bible and some against as far as I can tell. Take for instance, a while back I was reading that a group of archeologist found fish bones high in the mountains and they said it proved that evolution was correct that the bones in the high mountains proved that those fishes mutated from air breathing creatures into water breathing creatures. However the fish had the same genetic makeup of the fish today. Then I was hard pressed not to point out that during the great flood the bible said that the waters covered the mountains and if there were fish in the water when the water receded then it was quite possible that fish were left on those mountains for archaelogists to find, but of course that was a point that scientist could not wrap their evolution theory around. Some people think science is flawless, but in all reality, if you make a hypothesis and there is a possibility that it may be true then they deem that it is a fact. The Bible corresponds with a lot of History. That is also a proven fact as well. Read a book called the complete works of Josephus who was not a christian who was around during biblical times and was a historian he will give you a lot of insight. I did not like some of the things he said cause he was not christian and he did not write from a christian stand point he was a historian but I read it anyway because history is my favorite.

• Murfreesboro, Tennessee
8 Dec 07
While I do like to study other religions from a perspective of learning, it wouldn't matter how much history that is in the Bible was proven, it couldn't change my beliefs in Gods I have seen and spoken with. *shrugs* Still, the Bible itself is very interesting looked at historically. As for the whole "great flood" issue, what I've always found really interesting about that is that so many different cultures completely separately wrote or passed down stories about great floods. So that's one that's easy to believe happened... but I see no reason to accept that it was the work of the Christian God above any of the other Gods or beings it's been attributed to. I'll check out this Josephus thing though when I'm done with my current reading. I'm always interested in acquiring new knowledge, of any kind. When it comes to evolution, I think that I've done enough study on it that I feel pretty confident about my belief that it exists on some level. Species do split off, creating new and different species, when introduced to sufficient change in environment, etc.

• Italy
6 Dec 07
There's only one thing about creationism that I don't really find very clear. Let's say all this thing about making Eve out of Adam's rib is correct because God is omnipotent and he can do what ever he likes (I mean it in a positive way)and I am ok with him wanting their total devotion and obedience and sanding them away from Heaven. But there's another technical fact that I don't get. Adam and Eve were the first people and the only people God created and they had 3 sons Kain, Abel and the third one whose name I always forget.Anyway, so if A&E were the only people and then their children too where do the other people come from? I mean who did Kain and Abel had children with to populate the Earth? Even in Bible Kain and Abel go to the villages and live among other people but what I want to know is who created the other people if God created only Adam and Even and they created only their 3 sons? I am not starting an argument I would just like to get an explanations from the person who as I can see knows a lot about Bible and these things. Anyway that's one of the flaw I think this theory has. About the other theory, I was watching a documentary where they said that according to the human DNA it's possible (I actually don't remember if they said it was possible or that it was the fact) that all the people come from 7 different mothers. I don't know if I explained it well but what I want to say is that today all the people in the world can be divided in 7 groups by DNA any each group has 1 of those 7 prehistoric mothers. I don't think that theory of evolution doesn't have flaws, it does but I find easier to believe in something that doesn't include miracles (if we don't consider the evolution a miracle) that the one it does. I am an realistic person although I must say I'd prefer not to be one because faith keeps all of us going and I would prefer to believe that in this world full of violence, killings, wars, personal interests and breaking of the 10 commandments God could decide that this is all wrong and make it right again as it was according to the first theory. I hope

• United States
7 Dec 07
Oh in the beginning it just doesnt mention thier female children, it is believed she was Cain's sister but I believe she was either his sister or his neice. The reason at the very beginning of the bible that women are mentioned is because they played a large role in the bible. Hebrew men of which Moses was one were not at all happy with women (because of Eve, I think. Man blamed her for tempting man to eat. Which is wrong too, she didnt tempt him she didnt even have to persuade him to eat)and they played a more in the background role. A lot of times you will find the man's name mentioned and the word wives and children or even just household. Like Lots wife or Lots daughters have no names they are just his daughters. Eve didnt even have a name for a long time she was just woman Genesis 2:23 she shall be called woman, for she was taken out of man. Then in Genesis 3:20 Adam named his wife Eve, because she would become the mother of all the living.


• United States
19 Nov 07
Thank you! That is my stance to, however I am looking for why you believe, are there any compelling reasons for this belief.

• United States
20 Nov 07
I believe in creation because that is what God said. I believe God because the Bible says that God cannot lie. I believe the Bible because it is alive. It is relevant and always addressing my personal situations. It has never been contradicted. I have had many experiences with God and He is always faithful to provide what He says He will. I hope this helps.

• Kottayam, India
19 Nov 07
Evolution is what Darwin assumed, no clear proof about gap. Afer man what evolution has done on earth.from small things how big things can be made. it needs only common sense.

• United States
19 Nov 07
I think I need further information on what you said because I dont quite understand

• United States
19 Nov 07
That's a rather broad question. What exactly are you trying to accomplish with the paper? Is it just informative, or is it being written to prove a point? What opinions are you looking for? Are you looking for people's general thoughts on the entire matter of creationism vs. evolution, or is there something specific you wanted to know? My general mindset for the entire situation is this: creationism is a religious based belief which was created to try and explain the 'why' of life's existence. Evolution does not deal with how life began, thus many see creationism (or intelligent design) as a viable option because it does explain how life began. What's more, those that typically believe Creationism are usually religious, and find a religious explanation for complex ideas preferable to the scientific explanation. Evolution is a natural process which has been witnessed first hand by scientists, and the theory involving evolution, while still flawed and growing, is a viable way of describing the evolutionary process. I don't question that evolution occurs: genetic changes in bacteria, bugs, and many other living organisms are proof enough that it occurs. However, at the same time, I don't forget that the theory of evolution isn't perfect, and that we may have a few wrong ideas about the history of the process, or the process itself. These flaws don't discredit evolution in any way - they merely complicate our understanding of it, while in the mean time keeping us grounded on the fact that we may not be 100% correct when it comes to our understanding of evolution. That said - I don't believe certain forms of Intelligent Design (Creation is a sub-category of ID) and evolution are mutually exclusive. We can't say there is no God which set the universe into action and eventually created life, because this is an assertion that is neither provable nor disprovable. We can't test or observe to see if an intelligent being "superior" to us exists, nor can we test or observe to disprove it - so the entire position on the possibility of ID should be a firm "maybe".

• United States
19 Nov 07
Thank you, your view was extremely helpful I will research the theories you provided further. As to what I am looking for, I am looking for people who can tell me why they feel this way so that I can have a statistical paper. If people can explain why they think this is so, it is more accurate than just saying people believe in creationism or evolution. To be able to say 90 percent of the people believe in creationism because (whatever the reason may be) is a much better paper dont you think.

• United States
22 Nov 07
I just went to a 3 day seminar by Kyle Butts who talks about creation vs evolution. It was absolutely fantastic and perhaps you could get some of his info from the internet. The things I heard were very enlightening and I really think you would enjoy it. It is just as hard for me to understand how someone wouldn't believe as it is, I guess, for someone to understand why I do. To me it is just so obvious and I am not a closed minded person. God Bless You.