Disappointed with Clark and Lana

United States
10 responses

• Canada
25 Nov 07
Well I really don't think they are good together anymore and anyone that knows the story knows that Clark ends up marrying Lois. I really think they need to get on with that story line already. Clark needs a new love interest already, I am just so bored with them. Although the episode where lana got his powers was pretty funny LOL finally after how long they can actually have s3x LOL I just thought that was great hehe

• Canada
25 Nov 07
Yea no kidding I wasn't even thinking of that they need to make him fly already. Thats probably why they brought kara into the show.


• Philippines
25 Nov 07
I've stopped religiously watching smallville after the 4th season. I'm getting tired of the whole plot because ever since the show started, I've been wondering how they would tie the show to the real story of Clark. The show just keeps on disappointing me.

• United States
30 Dec 07
I agree as well. The story lines are too repetitive. They need some fresh material to get them from this point to the point where Clark moves into being "superman". How long do you think the show will go on. Will this be the last season?

• India
26 Nov 07
I thought the show got rid of lana at thhe last season ending and i thought they were gonna move on but just keeps coming back to both of them. I dont see any signs of him becoming superman either

• Malaysia
26 Nov 07
Me too...disappointed that Clark and Lana are not meant for each other.But,that is how the story line should be..am I right?hehehehe.....Well I can't wait to see Clark flying...

• United States
26 Nov 07
No I to was dissapointed in their love quaro but know that they will not be together forever. I have grown fond of the Lois character in the smallville series. this is still one of my favorite shows.

• United States
25 Nov 07
I am disappointed because the series in the the 7th season now, and they are still dragging on the Lana-Clark thing. At best the series will probably last no more than 8 seasons. It is time now to move on or do something here. And Lois does not even seem to be remotely right for Clark. It would really suck if we are left with 7 years of Lana and 1 year or less of Lois.

• Germany
25 Nov 07
A friend of mine also stopped watching the series after being disappointed with the Clark-Lana loveteam because either Lana will be linked to another man or Clark and Lana will have their on-off relationship. But as strawberrykiss said, in the real story of Superman, Lana was just Clark's teenage sweetheart and Lois is his present and future love interest. I also think that the reason why Kara was brought into the series is because she will be teaching Clark how to fly unfortunately in the last episode, Kara lost her memory and ended up in Detroit, Michigan.

• Malaysia
25 Nov 07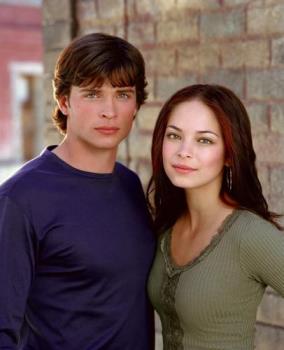 i wish Clark and Lana could have been together too. they make such a great couple! love seeing them together, but oh well..guess that's how the story goes.. T_T

• Philippines
14 Nov 08
in the comics lana is just clarks good friend and lois is he's girlfriend.

• Philippines
23 Jan 08
I got tired of the Clark-Lana tandem around season 5. Let's face it, the relationship is completely pointless because both of them want each other to be honest while in truth, both of them aren't honest with each other. they spend so much time hiding their true feelings and letting each other go and then getting back together again. geez... I really think that it is time for the Clark-Lois tandem. I think the fans waited long enough. ^^