CRISS ANGEL.... do yu know him?

Philippines
November 26, 2007 12:46am CST
actually me i dont know him. i just saw him on tv an interview at Larry King Live. i thought he was some kinda rock star singer, because he said Britney, Paris and Lindsay are his friends. And he also went out with Cameron Diaz. then all of the sudden he was explaining about his magics and illusions. do you know him? do you think he is cool? do you think he is a fraud?
6 responses

• Philippines
9 Mar 08
i have watch a couple of times doing his magic on tv and hes claiming that david blaine is a fraud. but to be honest, there is something in him that i dont like. i dont know what is it or why... criss angel or david blaine? i will go for david blaine.

• Philippines
9 Mar 08
hi xanthe, well the feeling is mutual. there is something about him that makes me want to watch david blaine than watching him. lol. i think we always end up having the same thoughts thats why we are friends... and the best. thanks for the response

• United States
26 Nov 07
Well I don't know him personally but I do know who he is. I think he's actually pretty good at what he does. Sometimes all you can be is amazed. And other times your just like I know he could show me how to do that. It doesn't look too hard. But it he is very good.

• Philippines
2 Dec 07
yes we are left amazed sometimes. thanks for the response

• United States
26 Nov 07
Yes Criss is very much the rock star of magicians. I do love watching his show. I like the feeling that for a few minutes I can get wrapped up in the fantasy and believe that what he does might be real. He is a good entertainer. I think he's hot too.

• Philippines
27 Nov 07
he is a good entertainer, a different touch. i really thought he was a rock star he looks like bon jovi. thanks for the response

• United States
28 Feb 08
I love him. I wish I knew him personally. I love watching his show it holds my attention so well because it amazes me. I also really like his music. He is a very good musician and magician.

• United States
30 Nov 07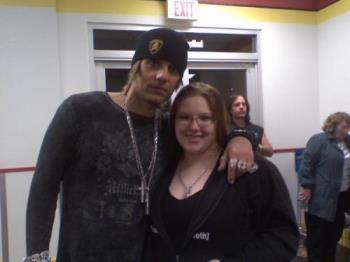 He's a great guy. I'm not a close friend of his, but I've spoken to him and his family a few times. They're really nice, and his illusion demonstrations are awesome, especially in person.

• India
11 Mar 08
I do not know Criss Angel in person. I have watched his shows in the television. I think he is very cool and great magician. One of the trick I have seen is he brought a elephant in an open place with just a cover. I think he is very fast and is a good magician. He has lot of good tricks.