Evel Knievel, Motorcycle Daredevil, Stuntman, Dies at Age 69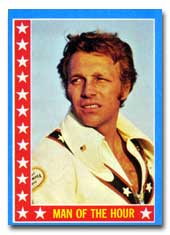 Canada
November 30, 2007 4:57pm CST
Evel Knievel, the daredevil motorcycle stuntman who made sensational jumps over cars, double- decker buses and broke dozens of bones in even more sensational crashes, has died. He was 69. Remember his stunts? http://media-newswire.com/release_1058200.html
4 responses



• United States
1 Dec 07
He was a legend and I hope that it lives on. God rest his soul!

• Canada
3 Dec 07
I believe he will. For those who live in his era he will always be with them..

• United States
1 Dec 07
He was in bad health and is no longer suffering. I'm glad he and his son worked out their differences near the end. Evil will be remembered for many things, but I enjoyed watching him perform.

• Canada
3 Dec 07
it is good he is remember for the good things not the bad thing. He changed the stunt man history and changed new boundries in the world of fear and over comming it.

• Philippines
8 Jan 08

Yes, he was a motorcycle daredevil. He was good although his game is really dangerous. My son rides on a motorcycle in going to and from work and I always get nervous.