What is going on?

United States
9 responses

• United States
24 Dec 07
Hehehe...you can blame me for this..LOL. mooch was sort of the starter and was the first to change her avatar to the one that Terry had used here. She was a good friend of Terry who was wrongly banned here. But then I started a discussion to get more of us, friends of Terry to band together and have us ALL change our avatars...you can see the discussion I started here http://www.mylot.com/w/discussions/1360890.aspx Most of us are going to keep the avatar at least a week, some may keep it longer..guess it's a matter of preference..My discussion now looks hysterically funny though..with all those same avatars--even some people who weren't friends or knew Terry well changed their avatars too

• United States
24 Dec 07
I will be keeping my brown puppy up for about a week. I sure hope it helps in getting Terry back. It is funny though to look at myself as a puppy.

• United States
24 Dec 07
MSV already explained but I just wanted to chime in and say I don't know how long I'm going to keep it. I think the general thought was throught he holidays but it's not like this was an organized idea. One started it and we all just followed because we felt that it was the right thing to do.

• United States
24 Dec 07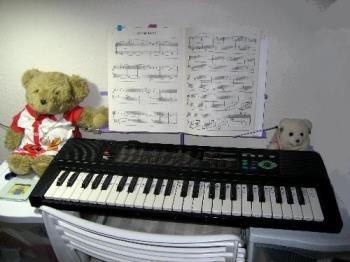 I was going to promise you never to have a little brown puppy for an avatar, but then I got to thinking how cute they are and remembered that I did an oil painting of a friend's little brown hairless chihuahua puppy that would look very nice as my avatar. But just for you I will keep the one I have...if myLot lets me. Once my avatar gort "eaten" and I substituted a cute brown kitten instead. It is nice to have my old avatar back. It is mre "me" than a kitten.

• United States
24 Dec 07
1) it is very kewl how how of these myLot friends are showing solidarity for their buddy, 2) Sometimes when I have two myLot windows open, the reply or photo I put in one ends up in the other. This is NOT where the picture of a keyboard was supposed to go, as I was trying to add the picture of TerryZ's puppy! 3) i hope this all get straightened out soon so that we can have Terry back and then everyone can go back to being themselves!

• United States
24 Dec 07
My friend Pyewacket started a sign of solidarity for a friend of her's who was banned from My Lot. So for at least one week everyone is changing their avatar.

• United States
24 Dec 07
I just posted the same question, thinking it was going to be hard to find the answer because of everyone having the same avitar. I didn't realize Terryz'd been banned, that really bites. Guess it can happen to all of us. What a shame that something so cool as myLot can be so horrible some times...

• India
24 Dec 07
i was similarly confused today morning hwen i logged into mylot. later i foud out that there is some member who is banned from mylot without any fault. her friends have started making her avatar to protest against this. so they are putting this avatar all.

• United States
24 Dec 07
Uh - did you say little brown snoozing puppy avatars? I haven't seen one of those avatars. Seriously, MSV1313 summed it all up. Seeing that you mentioned that TerryZ was also one of your friends, I did leave instructions on how to change your avatar in someone else's discussion. I am thinking that this should be the trend for approximately uh ... 39 days 21 hours 13 minutes & 25.097657896 seconds.

• United States
24 Dec 07
yes, all those little puppies does make it hard to tell one person from another...i think i saw on one post they would do it for a week maybe?

• United States
24 Dec 07
I see you got your explanation from several of us little puppies! I thought it was a great idea my friends came up with here to show support to our friend and fellow myLotter - or, now former myLotter, sadly. Maybe this will serve as a warning to would-be stalkers here! None of us "puppies" here are hard to get along with at all, quite to the contrary. That doesn't mean we all agree with each other 100% on every issue, because we don't, but we're still able to respect each other a remain friends. It's really not hard to play nice, like good little puppies, now is it? Basically, if someone can't do that, they should get back on the porch with the big, mean dogs! Annie