Bird Lover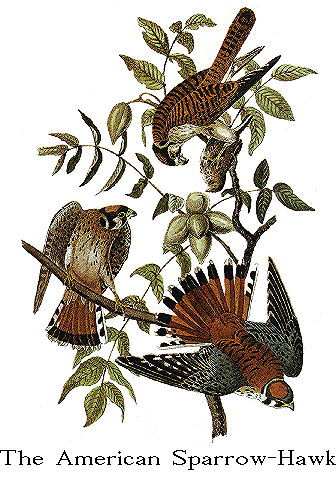 United States
January 4, 2008 1:29pm CST
I had never given the subject a lot of thought before, but as I was navigating through a site last night, it dawned upon me that I am a bird lover. I have always had an interest in birds, especially in their natural habitat. When I was a girl growing up in Tennessee, I had the pleasure of seeing all kinds of birds because I lived in the country. I can also remember that I liked to draw pictures of birds, and became quite good at it. I suppose that is what led me to the Audubon Society site last night to look at pictures of birds that were drawn by the famous naturalist, John James Audubon. During his lifetime he recorded pictures of over 500 of the 700+ species of birds that were common to the United States in that period. His drawings are lifelike and natural, and although he did shoot some of the birds and pose them so that he could draw them, he really loved them. His travels in search of all these species of birds took him all over the middle and eastern portions of the United States. If you would like to view the drawings of Audubon you can visit the site of the Audubon Society. The birds are all depicted in their natural habitats. Are you a bird lover? How many species of birds can you readily identify? I am posting a picture of his drawing of the sparrow hawk.
2 responses

• United States
5 Jan 08
Actually World, we've got a discussion group on mylot for birds, found here. http://www.mylot.com/w/lists/6_69958/default.aspx Granted its just like other "lesser" interest groups. Not a lot of discussions and not a lot of activity. But still its there and hopefully it'll get a resurgance. As for birds, I've always liked them. Various sizes, families and species. I think the dove is my favorite one of all else. The cardinal, robin, bluejay, are also favorites of mine. The hawk and falcon are my favorite majestic birds.

• United States
5 Jan 08
I used to read a lot of novels that featured hawks and falcons-as used in sporting, progamer. They always seemed rather frightening to me. I saw many hummingbirds in Tennessee and they are very interesting. I also like the cardinals and sparrows.

• United States
5 Jan 08
Okay, I can see that about those two birds. And thanks for mentioning other birds I like but didn't mention. Hummingbirds are gorgeous.

• United States
5 Jan 08
I could not name a hundred, let alone five hundred birds. When each of my children were in eighth grade, for a goal, they had to learn to identify and describe 114 Kansas birds. As a reward they got to go on a field trip to the wetlands to see them in their natural habitat. Both of my kids received certificates indicating that they were complete bird brains.

• United States
5 Jan 08
LOL! Well, it's nice to know that they can identify some of the species, GG. I always wanted to learn as many birds and flowers as possible. I believe my aunts knew almost every variety of plant in our area.