Are you a makeup Junkie?

United States
January 6, 2008 9:29pm CST
I personally cant live without three things...eyeliner, mascara, and lip gloss..I dont use anything else...occasionally I will use eye shadow, but only if Im going outon the town. However I refuse to go anywhere without my eyeliner...Im addicted..LOL..Just wondering what everyone elses makeup addiction is.
9 responses

• United States
7 Jan 08
I wouldn't say that I am make up junkie. I used to be but lately I haven't been wearing make-up so much I haven't had the time for it. I only wear it now on special occasions.

• United States
7 Jan 08
But is there one item you cant live without? LOL...And if no then how did you cut down? Im thinking about just getting my eyeliner tattooed on! ouch, but think of all the money and time I will save!

• United States
7 Jan 08
I used to wear make-up everyday but I did it to cover up the fact I had acne. but when i went to the derm. she got me on an antibiotic that would help clear it up and it has so I don't feel the need to use make-up so much anymore. My aunt got her eye brows tattooed on and she loves it, but I don't think I will ever do something like that.

• United States
7 Jan 08
Im not a big foundation wearer...I might be if I could afford the bare minerals make up..It doesnt matter if you have a great complexion with that makeup it still makes anyone look better..Im waiting for it to go on sale which it probably never will. Would you ask your aunt if it hurt getting her eyebrows done? I just want the eye liner done, but I would want to be put to sleep for it I think..OWIE!


• Philippines
7 Jan 08
Not really, but I love collecting make-ups. The thing is I want to use them in the office but then again it does not "sound" fit at all because my girl officemates are not into make-ups. :)

• United States
7 Jan 08
Let me guess...You are the youngest female in the office? That sucks..What type of office do you work in? I worked in a Hospital as a nurse and still experimented with my makeup..My patients loved it. I even would apply makeup to my patients that were checked in. The ladies enjoyed it because they had cancer and sometimes makeup just makes you feel pretty you know. I would check your office policy and if there isnt anything in there then try a few simple new experimentations and see what kind of reactions you get..Never know you might start a trend! :)

• Philippines
7 Jan 08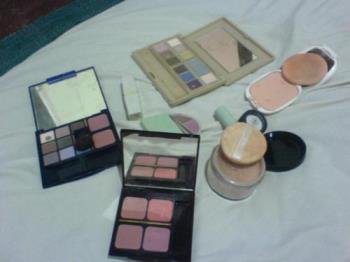 Hahaha. You are funny. You have guessed it right. I am indeed the youngest in the office.:D

• United States
24 Jan 08
I'm addicted, but in a different way. I'm addicted to buying it, not wearing it. I love buying new make-up and collecting tons of pretty colours.

• United States
24 Jan 08
LOL..Yeah..I have a lot of colors I buy, but I will never wear...Im to much of a sissy to wear something bolder that my neutrals..but I like them..and my friends like it even more when they can come over and actually use it because I wont.

• United States
22 Jan 08
I'm a girl that need to have a foundation or tinted moisturizer or something. My skin isn't really even toned and I feel really freaky without them.

• United States
23 Jan 08
LOL..In the winter I have to use some sort of cover up, but in the summer time my skin tone seems to even out so I dont use it..I totally suggest trying the bare minerals or even the cheaper versions..they are fabulous! :)

• Italy
16 Jan 08
I am not a make up junkie some day I even leave house without any make up on. I used to use make up much more often in the past but now I don't, now can't do without any kind of lip gloss but I use it just as the prevention because here can be pretty windy and that's not too good for the lips. I know people who are addicted to make up but I refuse to get addicted to anything...except maybe to mylot.

• United States
16 Jan 08
I cant say I have a strong addiction to make up..LOL, but addicted to mylot? Yup Im definitley slightly addicted to this site! :)

• United States
16 Jan 08
I love makeup...I have more of an addiction buying it than wearing it though. Cept for lip gloss...can't live without that even at home! When it comes to makeup, I can go without when i go out, but it is nice to put on to feel feminine and pretty.

• United States
16 Jan 08
Yeah Im a stay at home Mom..I actually just put some make up on because I realized I hadnt worn any in a few days and I felt like a slob..Sometimes its just nice to feel like a human and female! :)

• Australia
15 Jan 08
I am free from all make up addictions. In fact I don't even own a lipstick. I think there might be a little mascara and eye liner laying around somewhere but they are probably so old they have dried up by now. I did wear make up for my wedding four years ago but since then I am not sure when I have worn it

• United States
16 Jan 08
Consider yourself a very lucky person!LOL ..I wish that I didnt have a make up addiction even though mine is small compared to others addictions! :)

•
7 Jan 08
Whenever I'm home I don't like to put up any makeup. I stay plain. It's like rest to my skin. And whenever I'm out I would like to add small amout of touch up but not much. My make-ups are like a mousteriser, eye liner and a lip gloss. Without this things I simply can't go out and just like you eye liner is simply the most for me. I can stay without lip gloss but not without eye liner. I think I look weird without it.

• United States
7 Jan 08
LOL...I know what you mean..I usually dont put any on when Im just home all day and not going anywhere, but if I look in the mirror and Im not wearing eyeliner it bugs me. I just dont feel complete without it! LOL...How sad huh?