Sign a petition to end anilmal cruelty- check out this video SHOCKING TRUTH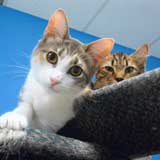 Canada
January 13, 2008 8:09am CST
animals are being abused every single day and for what reason?? please check out this video! it will change your life http://video.google.ca/videoplay?docid=-1282796533661048967&q=earthlings&total=757&start=0&num=10&type=search&plindex=0 and sign a petition if you like at http://www.thepetitionsite.com
2 responses

• United States
13 Jan 08
I know. It makes me so mad to see animals abused. I love animals and never would hurt one. I will have to check out the video you have given to us. Thanks alot.

• Canada
13 Jan 08
thanks its a great video but very sad!

• Canada
6 Feb 08
I don't think that it is right for people to abuse animals,they are so cute and innocent.