Kabloom! I'm Glad the Inside of our MW is white...

United States
January 19, 2008 6:30pm CST
...it makes it so much easier to clean off the exploded gunk that ends up there when I'm trying yet another experiment that didn't work. Actually, it is not exactly white at the moment. It was a few minutes ago. I just washed it nicely and that reminded me I was going to have a second try at making "sticky rice" in those cute steaming bags they stock next to the asparagus at WalMart. I bought a box and made asparagus in one of the bags and must say it was delicious. Being a frugal tightwad, I decided to use up the drippings and reuse the bag right by putting in a box of Rice-a-Roni and 2 cups of water and put it on high for 20 minutes. However I set the timer for 2 minutes by mistake and went off and forgot about it for an hour. When I came back, set the correct time and finished nuking it, it was scrumptious. I love sticky rice, but think it is a pain to make it the regular way. Of course, it probably should have exploded the first time. But seeing the oven all clean made me remember I was going to try to make this rice again, only this time I put the correct time in from the start. A full thirteen minutes later, KABLOOM! What a mess! So this is why they did not put the sticky rice recipe on the box of cooking bags. Clever of them, but I will not be deterred! While I go back to the kitchen to clean up AGAIN, please tell me if you have tried the new Microwave Steaming Bags by Glad. What did you cook in them? Was it good? Will you buy them again? Did you ever explode anything in your microwave? Tell us all about it! Are you likely to try that again?If you do not have a microwave how do you cook your vegetables? You DO eat your vegetables, don't you? Admit it if you don't, as I know that some of our myLot friends hate veggies as much as others love them.
5 responses

• Canada
20 Jan 08
Oh my that sounds like a big mess. BUt at least you learned something and can now do it right :):) I have had my share of spills in the microwave, but so far no explosion. But I tend to use my microwave more to reheat or defrost than to actually make food, although sometimes I do some things in the microwave and then continue the traditional way. I have not tried those bags yet. They seem to be good for vegetables so I might try them at some point.

• United States
20 Jan 08
They do make the veggies very good and hubby has already asked me to make him more of the Kabloom rice again today, hopefully without another mess in the oven, though. The first microwave oven we ever bought came with free gourmet cooking lessons, lol. so being a frugal tightwad I did attend every one of them. As a result, I use the microwave for quite a few things, but until now I've always made rice in my electronic multi-cooker, or in a skillet over our induction cooktop. We don't have a regular stove--took it out to make more space in the kitchen a long time ago.

• Canada
22 Jan 08
I have seen those bags before and wondered if they would really work, now I know that they do so I am sure I will be trying them at some point. I have quite a few recipes for the microwave. Some to be done all in the microwave, some where parts of it are done in the microwave and other parts on the stove. I usually prefer the second option. As for space I think stoves keep getting bigger and bigger and take so much more space than what they should. My kitchen is not that big and I have been looking for one of those 24" ones that we used to find specially in apartment buildings. Well, guess what, I can't find one of those anywhere, only the 30". I have actually been considering maybe a second hand one because I really need that small extra space.

• United States
22 Jan 08
When I bought this portable induction cook top online about ten years ago, it was pretty hard to find, but now even Target carries them: http://www.livingincomfort.com/incookwitcoo1.html This one is 12" wide x 15" deep x 2" high. I first saw this technology being used in the buffet at a local casino and asked the chef what it was. The reason the Living in Comfort store includes a free skillet is that the induction cooking does require special pans. The freebie pan is high quality, but not as pretty as the gorgeous set of T-Fal Soho pans we found for under $100 at Target. I don't miss the stove a bit!


• United States
24 Jan 08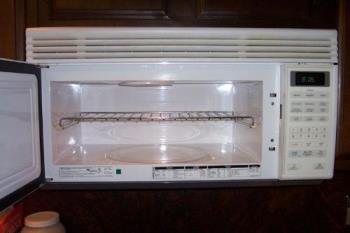 As a youngster I took a small container, put an egg in it and then wrapped it in plastic. After about ten minutes it sounded as if a bomb went off... completely blew the door off the microwave and threw egg EVERYWHERE. My mother thought it was so funny she actually didn't ground me for that one. If you have a good microwave today and know how to use it properly there are things that can be made in there (including BROWNING) and no one would ever know the difference. Of course with convection heating, it is just as fast and a little better. You've been told you can't put metal in the microwave... wrong... it just can't touch the sides. Most modern day microwaves even come with metal shelves (see picture). The only thing I have yet to figure out how to do is bake and I don't even think it is possible with a microwave.

• United States
24 Jan 08
Wow, did your mom get a new microwave or were you able to put the door back on? I hope you helped clean up that mess. I bake in mine sometimes, but you know there are special microwave ovens with browning elements, but I like the microwave/convection oven combos, too. Sometimes I start food cooking in the microwave and then switch it over to the ultravection, though as then I can put something else in the MW. The metal thing is a little dangerous as metal can explode in there, too and become shrapnel if it is the wrong kind, without touching the sides. Metal can get very hot in there, as can some other utensils that are not microwave safe. Thanks for stopping by and sharing you experience with the egg!

• United States
24 Jan 08
I think we were able to get the door back on. My parents currently have a microwave/convection MW and absolutely love it... the convection in our house is in the oven, which my wife uses quite a bit. It really speeds up the time to cook things and also you don't get the black undersides on baked goods (cookies etc...)

• Philippines
21 Jan 08
I had my own share of explosion in the microwave... they were actually eggs... i tries boiling them then they exploded and messed up inside... since this device is quite new to me... i only started using the MW about five years ago... and that was the time when i worked abroad...i got to realize how convinient it was to have one around... especially when there was no time to cook or when there was no stove available to heat cold food... so when i came back to my country... i immediately bought one for my apartment... I also love sticky rice... here in the Philippines... we have like 100 and 1 ways to cook sticky rice and they come in different colors... i hope you can try one someday... if only they will not spoil... i would send a box to you...

• United States
21 Jan 08
Such a nice thought, but a box of sticky rice would not ship well, lol. Anyway your comment brought a smile to my face. An egg was the very first thing I ever exploded in a microwave...that was a long time ago. I put it inside a plastic bag just to see what would happen. The bag exploded too. Egg is about the hardest thing to clean off, too, but in the microwave it is pretty easy because everything steams off. Well, we tried!

• Australia
20 Jan 08
I normally only use the microwave oven for defrosting and heating up food. I've cooked with it a couple of times, but many years ago. I think the last time was the popcorn in a bag, if you can call that cooking. Now I usually just make popcorn on the stove in a saucepan with a glass lid. I know sometimes brussels sprouts and peas explode in the microwave oven, so I always "keep a lid on it".

• United States
20 Jan 08
LMAO rotflmao I am so sorry for laughing, but I feel your pain here. I exploded a brat in the micro once I had set it for 10 minutes accidentally when I meant to set it for 1 minute. What a mess that was. To answer your question no I have not used those bags yet. I have a nice set of glass micro dishes. When all of the studies came out about the microwave and plastic it really worried me. I had always used tubberware type bowls to use in the micro. And yes I love Veggies.. LMAO Bless your heart I hope you had fun with your cleaning.

• United States
20 Jan 08
Don't feel bad for laughing, I am still laughing over this myself, but I must report that not all the rice was wasted and after finished cleaning the inside of the oven for the second time today, I found that there was a lot of rice still inside the bag unharmed, and in fact it was delicious! Hubby has has requested that I try to make this exact recipe again, but he suggests that this time I should wrap a dish towel around the bag before heating it up, just in case. We both like sticky rice. I know what you mean about using the wrong kind of plastic being scary. Most of my bowls are glass, too, but I think these bags are going to be OK. I would just urge everyone to be sure the "zipper" is well sealed before nuking anything in them. Next time I will check on it after 5 minutes and give it a little cool-down time in the middle if cooking rice, though.