taste indonesian food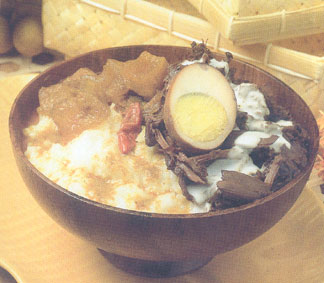 Indonesia
January 22, 2008 1:20pm CST
Gudeg Jogja (Green Jack Fruit Sweet Stew), is usually served with warm rice, egg, chicken, tofu, tempe, chip, fried onion, etc. you can also serve a glass of tea, ice tea, orange juice, fresh water, etc for beverages. it is not complete if you come to Jogja without tasting Gudeg. so, try it your self .. :P
3 responses

• Malaysia
22 Jan 08
I haven't taste any gudeg jogja yet, but the picture look like the dish is tasty. Is it using the coconut milk? I think if it using the coconut milk in it as the soup we called it as a masak lemak buah nangka muda (Young jack fruit in coconut milk). If you have the recipe for this gudeg jogja, I would be happy to try it out.

• Indonesia
24 Jan 08
the recipe for this gudeg jogja: - 5 Shallots - 10 Candle nuts - 10 Garlic cloves - 4 Indian bay leves (salam) - 1/2lb (250g) jack fruit - 2-1/2tsp (12s) coriander seeds - 1-1/4 (62ml) coconut sugar - 2 cup (500ml) coconut milk - 2 tsp (30gr) tamarind - 2 lb. (1kg) chicken(cut into small pieces with bone) - 5 cup (1.25L) water - 2 inches bruised galangga instruction: cut jack fruit 1 inch thick wash. boil until tender. Grind shallots, garlic, and candle nuts. saute paste. add salam leaves, and ga;angga, until fragrant then add chicken pieces. stif fry until chicken change color. pour 4 cups of water and coconut sugar, cumin, corriander, tamarind and bring to a boil. add jack fruit and simmer until chicken and vegetables are tender. add coconut milk 5 minutes before it's done, bring back to a boil. serve hot with rice.

• Indonesia
8 Apr 08
Gudeg jogja is so sweet. i like to eat it with sambal(chilli) so that it's not taste too sweet. I like you post sudut senang


• Singapore
24 Feb 08
Hmmm... indonesian food so tastey! I do like all hot and spicy food... and too much to write about their names. since i stay abroad so i cant find indonesian food here, i will become stress to imagine and remember them if i enumerate them here. Oh mylot!!! It makes me want to eat them all!!!!!