NO SERIOUSLY...he's just a friend...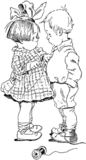 United States
January 25, 2008 7:51am CST
Age old question folks, can men and women just be friends? I know I have guys friends who are just friends, it doesn't even bother me that my fiance has girls for friends. I know how good of a person he is and to rob other people, even females, of knowing him would be insane and very unfair. Trust is a huge part also.So, tell me...what do you think, can men and women be friends without risk of taking it too far?
6 responses

• Romania
26 Jan 08
I have a best friend...and...it`s a girl. We know each other since 2005 :). It`s a big thing if you can have a girl as a best friend, and it helps a lot ;)

• United States
26 Jan 08
it helps you how? just curious, but what do you get out of this relationship? I am happy to see that guys have girls as best friends, but I haven't heard the guy's view of having a bff that is a girl...only the girl's point of view that have guys as bff's...please share :)

• Romania
26 Jan 08
well...we help each other how we can...for example if she wants to hook up with a guy I know...it`s very easy for me to talk with him and convince him that my bf is good for him :). and it works viceversa too :D

• Canada
25 Jan 08
I think that some people probably can! however it has been my experience that guys that want to be my "friend" have wanted more then jsut my friendship in the end. And I am not one that flirts, or flaunts either, so it wasn't anything i did to make them feel that way. Maybe i just picked the wrong men/boys to be friends with!

• United States
25 Jan 08
or maybe you are just irresistable,lol...like me ... seriously though, I have been on both sides, I have had and do have some excellent guy friends,and I have had some dogs try to make it out like they are friends and all they really want is some friendly benefits! soooo all I can say is, not all guys are pigs,some are even esier to talk to then women, since they have a different outlook than we do.So. be careful and cautious, but don't rule it out :)


• Davao, Philippines
26 Jan 08
sure it can be...why not.. atleast they will not talk behind your back lol ..

• United States
25 Jan 08
I have always had more male friends than female. I guess because I was always into more 'guy' stuff then 'girl' stuff. I grew up fishing, hunting, and raised show goats for years. I am in a more male oriented profession, wildland firefighter, there are females, but way more men. I learned construction from working with my dad. And I've always loved cars, the more muscle the better (I drive a 07 Mustang GT) but would just as soon drive a truck ( drive a Dodge Ram at work). I've come home from a fire, filthy with ash and smoke, hungry and beyond tired, and know women that wouldn't even consider that an option lol. It doesn't bother my s/o that I work with an all male crew either.

• United States
25 Jan 08
That is the reason for me having more guy friends, I was a tomboy growing up,so I definitely agree with you about that being a factor.[kudos on the job girl!]You s/o must be too proud to be jealous!!!

•
25 Jan 08
I guess that the answer to that is yes. If you are on the same wavelength about something then its not too hard. I have some fantastic girl friends, some of whom have met my wife and some that have not. I always tell her when I am seeing someone and she doesn't mind. I have never tried it on with a woman friend, and have only once had it happen to me. I resisted, told my wife, and the lady concerned is still a friend of both me and my wife. If you are looking for something else, then I think that that is possible to. Its how we meet our life partners. You are right, it boils down to trust and respect.

• United States
25 Jan 08
Absolutely, thank you for your response :)