Need a Sled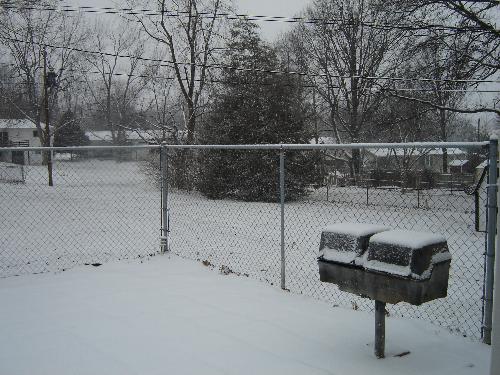 United States
January 31, 2008 7:11pm CST
Need a sled and a 10 yr. old body again. We had a beautiful snow storm today and it's not finished yet. The snow began at 10 this morning and the prediction is it won't end until tomorrow. Total amount predicted is between 4 and 11 inches. I didn't have to go out in it today which is why I think it's so pretty. I stayed off the streets? Anyone else get snow today or is expecting snow tonight or tomorrow?
8 responses


• United States
1 Feb 08
I wish we were getting snow instead of this ice storm! We could get 2-3 inches of ice and freezing rain. Thankfully I don't have to drive in this. If I did, I would be cancelling many of my clients. No way do I risk life and limb to drive on bad roads.

• United States
1 Feb 08
I usually drive to town to pick up my work schedule for the weekend. Today I will be calling in.

• United States
1 Feb 08
Feb 1, 2008, predicting freezing rain from 10AM today to 5AM tomorrow morning, but it looks like snow to me! Like I said, we get what you get unless some kind of change takes place, we just get it hours later. Wish they had told us snow, there were runs on the stores last night and I won't be going into work tonight because there won't be any business. Take care and keep comfy!

• United States
1 Feb 08
We have something in common: I share our nasty weather with you and I also work on Friday nights. So does this make us cousins? lol We ended up with 6 inches of snow and I might add, it was heavy. I shoveled last night. My husband had his turn this morning. He did a better job. Stay warm, carolbee

• United States
1 Feb 08
We haven't had much snow at all this year in Indiana. We haven't had enough to get a sled out or make a snowman or anything. We are supposed to have a wintery mix tonight do no telling what we will end up with.

• United States
2 Feb 08
I've got the sled but your on your own with the 10yr. old body. lol We got 11 1/2" here but it's not enough. I want lots more.

• United States
1 Feb 08
Hi carolbee it does look pretty. No snow for us just rain. Your lucky you didnt have to go out today. I wouldnt have either. Now go out and get that sled. Have some fun in the snow.LOL

• United States
1 Feb 08
LOL too funny, I'm several hours behind on this discussion but we're getting the snow today and all schools in the area were canceled. Needless to say I've had a 16 year old with ADHD home all day - just as I read your discussion he came in and said, "Mommmm I think you need to get dressed really warm and come out and pull me around on the sled." No, we have a gator here so I'd drive pulling him behind it but now he's clearing trails as I told him I'm not leaving the house until I get this room painted.

• United States
1 Feb 08
The last time I took out a sled to go with our kids, I was about 40. I dove on the sled just like they did and the next day I had bruises from my knees to my waist...lol This is why I need a 10 yr. old body again. We have loads of schools closed today. The snow quit very early this morning and came your way. Thanks for responding, carolbee

• United States
1 Feb 08
Oh you wouldn't get this lady on a sled these days - can't remember the last time I did but I'm happy just watching, perferably from inside :) LOL - New Years Eve I took 2 grandkids out (we got a huge storm and they were spending the night). We made snow angels and a snowman and I felt that the next day. It's still snowing here but I don't think we're going to get the 12 inches they were talking about - we're at maybe 6 now and it's just a real light snow.

•
1 Feb 08
yes iam where im living there is apparently or a ruff estimate of 75mph winds with snow to follow so walking is not an option for the weekend as i dont drive