Satisfaction out of gardening?

United States
March 10, 2008 11:23am CST
I absolutely love gardening. The fact of digging in the dirt, planting seeds/bulbs, or even the actual started plant itself. I enjoy my time being spent, weeding, feeding and watering these plants. Which gives me such satisfaction in the end, to see the results. Do you feel satisfaction with knowing that you brought something of such beauty alive? Or that you have maintened such beauty to continue?
8 responses

• United States
10 Mar 08
i love gardening also but being a chef i limit my gardening to growing fresh herbs and veggies that i use in my kitchenon a daily basis, if i had more time i probably would grow some other types of plants such as flowers and such , but for now its herbs and spices and veggies ...

• United States
10 Mar 08
Thank you for your response mrpippo. Growing herbs and vegetables is just as rewarding as growing flowers. I grow vegetables, and flowers. I have yet to try my hand at herbs, but it's the next thing on my list. I first want my husband to build me one of those herb boxes to go on my kitchen window ceil.

• United States
12 Mar 08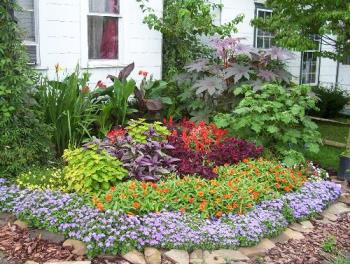 I don't necessarily do it for the end product. Gardening relaxes me. It also provides exercise. The biproduct is just a nice benefit to me. I added a photo of my 1st attempt at a flower bed.

• United States
12 Mar 08
Yes, I know exactly what you mean coolseeds. It is always rewarding when your efforts are noticed. I have people walk down the street to come look at my plants. Thank you for the response and the photo. You did an excellent job. It looks beautiful.

• United States
11 Mar 08
Gardening is my therapy. I go a little nuts in the winter and once the holidays are over, I start itching to get out into the yard. I have some forsythia bushes along on side of my yard and as soon as I see buds on them, I am cutting branches and bringing them in to force blooming. It brings a little early Spring into my home. I have started some herbs this year and I can't wait to start my cucumbers and what ever else I have room for. I have gotten my grandson involved now. He is in charge of watering the herbs and will be helping me more in the yard this year. I can hardly wait.

• United States
11 Mar 08
Hello and thank you for your response nanamag. I have to agree with you. Gardening is very theraputic. Or at least for me it is. I enjoy cutting my fresh roses and bringing them in to display along with the heavenly smell they give. My youngest son used to garden with me (he just loved digging in the dirt). Now he doesn't do it cause his friends made fun of him.

• United States
11 Mar 08
Absolutely! I love gardening and wish I could have one here. We're renting and I don't know how long we'll be here (not long, I hope!) I thought about container gardening too. I guess I should start looking into that as a possibility and get going on it. I mean Spring is going to be here eventually, right?

• United States
11 Mar 08
To have gardening taken away from me would be like having one of my senses taking away. I don't think I could survive such. Yes, you could always do the container method, to give you that satisfaction of nutrient something. Yes, I am hoping spring will get here eventually, if not I think I will have to move. *LOL*

• United States
11 Mar 08
Yes, I love gardening too! Can't wait for spring weather and to get my hands in the dirt! Love pullin' up weeds, planting flowers and bushes and even trees and a vegetable garden (food price$ are going up and up!) Love to see the flowers spring, summer and fall, and love to pick the veggies and prepare meals with them... :)

• United States
11 Mar 08
Thank you flowerchilde for your response. I am totally with you on this one. When I was a kid, we pretty much lived off the land. So now that I am an adult, I prefer home grown vegetables. To me it just tastes so much better to have the freshness of them. My husband says it's because of the satisfaction of knowing I grew it myself. So I guess it could be a mental thing, either way, I truly enjoy it.

• United States
11 Mar 08
gardening is something i have never done but i think i would love it. i have some flower pots built on the front of my house and i was thinking of trying it. it would be small to start i don't want to go big cuz i am not sure how i would do. i do however grow plants. i love house plants and used to have a ton but my sister in law killed them(she didn't mean it)i just started again and am loving it. my aunt gave me a bunch cuz she was killing them and i have brought them back and started new already they are growing so good. i am so proud of myself!lol

• Canada
11 Mar 08
Hi, my girl, if you have read enuff of my diatribes, gardening is major in my life....and for many years, I actually had the only Nursery on this Island. That's actually how I started Landscaping..one lead to the next. I try and grow enough, to put a lot of preserves and frozen by. Course there's nothing like flowers...(but I have an on-going deer battle.) Every time I find some-thing the deer don't like this year...next year it's their delight!I now have all my gardens weeded, I have 2 of my 3 acres landscaped...and all my brassicas, legumes, mescluns in. Soil still too cold for root veggies. Nothing like dirty fingernails and dirt on your upper lip. Happy growing!

• United States
11 Mar 08
Hello pergammano, thank you for your contribution to this discussion. You must actually live in 'Paradise'. *smiling* Have you tried leaving corn for the deer so they would leave your flowers alone? I haven't even started yet this year, the weather here has been too unpredicatable. I am chomping at the bit to get outdoors, and yes like you said get some dirt under my fingernails. Since you have done the whole nursery thing already I might be seeking out your knowledge for some pointers.

• Canada
10 Mar 08
There is nothing that compares to the experience of gardening. I have had to limit myself to container gardening on my apartment patio, but I still am able to feel immense satisfaction in nurturing and watching my plants grow. As it is very shady, I have had to learn which plants thrive best in shade to partial shade. Shaded patio gardening has certainly been a creative experience for me. I am also fortunate to be living next door to a very good plant nursery. I love to stroll through their isles of plants, touching them, smelling them, just being at peace in the midst of them. So, in addition to my container plants, I have a whole other world of plants to enjoy.

• United States
10 Mar 08
Thank you for your response Winter08. Oh wow, you really have your gardening cut out for you. With so much limitations, I am sure you have to be extremely creative, but I am sure it is just that much more rewarding for you. Oh I would love to live close to a nursery (would run husband broke) or to even have my own, but I live in a very small town, so neither is possible.