How can we give up bad habits?

China
March 14, 2008 10:22am CST
Most of us have bad habits,i am sure that almost everyone of us want to give up these bad habits.I think I have many bad habits.Sometimes I go to bed very late,but I know that it is very bad for your health.Sometimes I cant keep my room clean,worse more I cant do things carefully.I think most of you have bad habits,so just speak them out,and let's give up them together.
4 responses

• Malaysia
21 Mar 08
My bad habit is biting my fingernails until the tip of my fingernails. Believe me, it is not painful at all. Normally when I bite my fingernails I am not aware of it until my wife or children stop me from doing it. The worse part is when I am driving. Usually when I drive I will bite my fingernails. I bite my fingernails when I am nervous, concentrating on smething, worried and stress.

• United States
14 Mar 08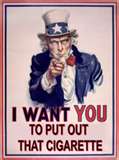 There are ways of getting rid of bad habits and if one wants to rid of them bad enough, they'll find a way. Like me for instance, I'd love to quit smoking but at the moment, I'm just not ready to give it up because I have too much going on right now to even consider trying. Hopefully in time and soon, I'll be able to do it.

• United States
14 Mar 08
Of course we all have one bad habit or another. One of mine is procastination. One of these days I'll give it up. LOL! Another one is my weakness for chocolate, but I'm not willing to give that up.

• China
18 Mar 08
Chocolate,,it is delicious indeed,,,i think this habit isnt easy to give up...lol...

• United States
14 Mar 08
I know that I have bad habits. I tend to not clean at all. I am not the most hygienic person either. I really should clean up my act, but like you, I don't know how. The worst part about it is I don't really care. I would also like to know, how do you make yourself care?

• China
18 Mar 08
Yeah,,i thinke i am a hygienic person but not my room..lol...