headache

United States
9 responses

• India
11 Apr 08
i have never heard of this method i would certainly try so if it helps.though i can't understand how it will.my cure for headaches is lots of water and then go for sleep in a dark cool room.and when you get up you'll be feeling great!but when you can't sleep and have other things to do i would suggest water is the key.also you must avoid caffeine at the time of headaches.you must also avoid extreme cold or hot things at that time!

• India
28 Mar 08
I have never heard of this before, but i have heard people saying pressing your thumb against a flat surface might help because a nerve from your thumbs goes directly to your head.(not still sure). Any to get rid of headache is to sleep for an hour or so.Can also drink water and coffee. from http://trainyourmind.blogspot.com


• United States
24 Mar 08
Wow, I've never heard this before but hey it's just warm water, cheap and easy, I'm going to go try it as soon as I get off the computer - I've been having a lot of headaches lately (stress I'm sure).

• Indonesia
24 Mar 08
That's a very nice idea,,..Think I'll try it when I get a headache.

•
23 Mar 08
If it does work it doesnt for me, i often carry on washing dishes etc with a headache and it didnt make it go. I take some painkillers and sleep if partner is home to watch the children

• United States
23 Mar 08
I have never heard of this or tried it. I had a headache off and on for the last two weeks but it has gone away now. I took any kind of pain medicine i could get my hands on at that time. I also had an earache and a neck pain that would not go away. I had something wrong that caused all of that at one time.

• United States
23 Mar 08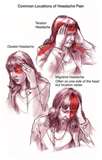 No I can't say that I have. If it works, it'll be a new one to add to my list. My mom says to rub the timples and the headache would go away. As for me, I take a couple of IB Profens and an ice pack to the head and go to sleep. lol

• Netherlands
23 Mar 08
I have never heard of this method so I have not tried it, but if it would work why not. I also heard other methods of getting rid of your headache like having s.e.x and I have also been told that if you massage your big toe your headache would go away