Best friends

United States
5 responses

• United States
23 Mar 08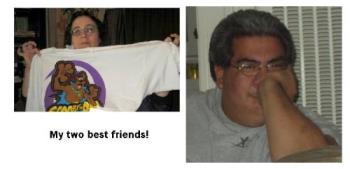 I am fortunate to have a couple of best friends that I can talk to about nearly anything. I met them both at different times but through the same source, church. I've known them both for 20 years so we all know each other pretty well. We dont' get to see each other all that often but it's great when we do.

• United States
23 Mar 08
I only have one friend and he is my best friend. that is my husband. We have been together for 16 years now and married for 13 of them in July. He is the only best friend I have ever had or will have. i have tried many times before with women and men and it never worked out.

• United States
24 Mar 08
That is great to hear that your husband is your best friends.



• Malaysia
24 Mar 08
I do have a best friend...She is really great. I can talk anything with her even my personal problem. She always help me when i'm need it. I'm lucky to have her as my best friend. We stayed together, rented a flat with one of my officemate. We go work and eat together. My boyfriend always jeleous with my best friend. He said i'm not give attention to him like i give my attention to my best friend. Haha... I really hope that my relationship with my best friend were continue until we have grandchildren..haha